Professional Thermal Imaging Right in Your Pocket
The FLIR C2 is a compact, full-featured professional thermal camera for fast troubleshooting and powerful reports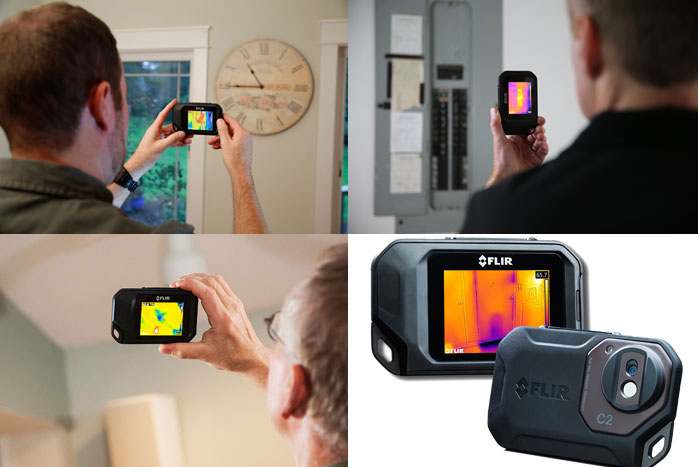 The FLIR C2 is the first full-featured, pocket-sized thermal camera designed to help building professionals identify hidden heat patterns that clearly show where problems are, such as sources of energy waste, signs of structural defects, plumbing issues and more.

Its compact and slim design enables the C2 to fit comfortably into any pocket, available for immediate use to uncover invisible building issues and to show customers where potential problems are located. In fact, at 125 × 80 × 24 mm (4.9 × 3.1 × 0.94 in.) and 130 g (.29 lbs.), the sleek architecture makes the C2 the most convenient, full-featured thermal camera available on the market.

Real-time image enhancement
Featuring FLIR's patented MSX® real-time image enhancement and a brilliant, simple-to-use touch screen with auto orientation, the camera creates thermal images with stunning details to help identify problem locations easier. MSX adds key details (captured by the onboard visible camera) to the C2's thermal images so numbers, letters, texture and other features are clearly recognizable without compromising the thermal image.

For accurate building inspections
The C2's 4800-pixel resolution, high sensitivity detector captures and displays subtle thermal patterns and small temperature differences useful in building applications, and a wide 41° field-of-view frames in more of the scene. Plus, the C2 includes a built-in work light and flash that helps illuminate poorly lit areas common in building inspection environments. The extra illumination also ensures that a brighter visible photo is able to be captured along with the C2's thermal image.

With a simple point-and-shoot operation, the C2 can store radiometric JPEGs with the push of a button. The images can be downloaded later using the free FLIR Tools software that allows the user to adjust thermal image levels, isolate and add temperature measurements, change color palettes, and create persuasive reports.
Categories: