About FLIR C2 Thermal Camera
FLIR C2 Thermal Camera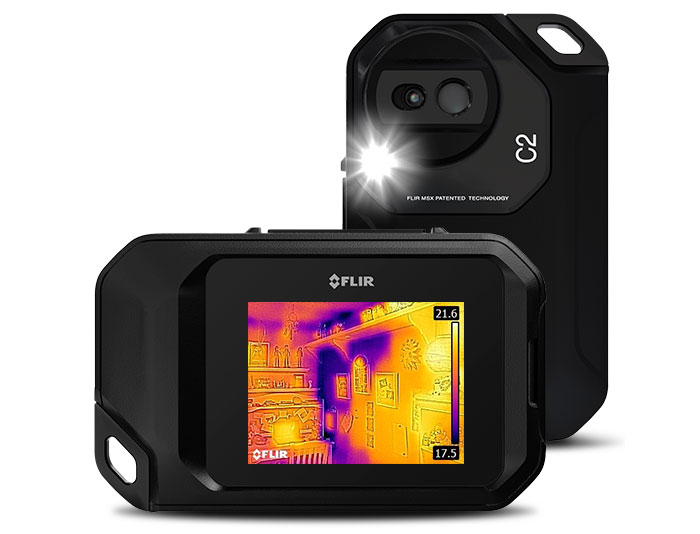 The Powerful, Compact Thermal Imaging System

The FLIR C2 is the world's first full-featured, pocket-sized thermal camera designed for a wide range of building and electrical/mechanical applications. Keep it on you so you're ready anytime to find and show hidden heat patterns that point out hotspots, energy waste, structural defects, plumbing clogs, HVAC issues, and other problems.

Key Features

Light, Slim, Pocket Size
Brilliant 3" Intuitive Touch Screen with Auto Orientation
Built-In LED Spotlight
Large, simple image save button saves thermal, visible and MSX® image all at once
Power button designed for fast access
USB Micro-B Data Transfer
Visible Camera
Thermal Camera
Intuitive User Interface
Pocket Portable and Ready to Go
The slim, light profile fits comfortably in any work pocket so you can always keep your C2 at your side and never miss an opportunity to uncover invisible building issues, show them to customers, and offer helpful solutions. Use it as a non-destructive assessment tool and a reliable way to verify the success of completed repairs.

Show More with Sensitive Thermal Imaging and a Wide FOV
The C2's 4800-pixel resolution, high sensitivity detector captures and displays subtle thermal patterns and small temperature differences useful in building applications. And a generous 45° field-of-view frames in more of the scene the way pros need to see it.

MSX® Image Enhancement Only From FLIR
C2 features FLIR's unique MSX® that adds key details from the onboard visible light camera to the entire infrared image in real time. The result: an all-in-one, undiluted thermal picture with visible light features that lets you instantly recognize where the problematic heat pattern is. MSX® is real-time whether watching the camera's LCD or streaming video over USB.

Full Radiometric Flexibility for Powerful Reports
The C2 JPEG images store 4,800 individual measurements that can be post analyzed using FLIR Tools software that is included with the camera. You can analyze, change color palettes and access both thermal and visible imagery to create convincing reports.

News archive:
FLIR Systems announces C2, compact full-featured professional thermal camera (28 Apr 2015)
Professional Thermal Imaging Right in Your Pocket (2 Mar 2015)
02 32 00 - Geotechnical Investigations
07 20 00 - Thermal Protection
07 21 00 - Thermal Insulation