Protect your hearing before it is too late
You do not get used to noise, you gradually loose your hearing...
Every day, millions of people around the world are exposed to noise at work and all the risks this can entail. While noise is most obviously a problem in industries such as manufacturing and construction, it can also be an issue in a wide range of other working environments, from call centres to schools, orchestra pits to bars.
One in five of Europe's workers have to raise their voices to be heard for at least half of the time that they are at work and 7% suffer from work-related hearing difficulties. Noise induced hearing loss is the most common reported occupational disease in the EU.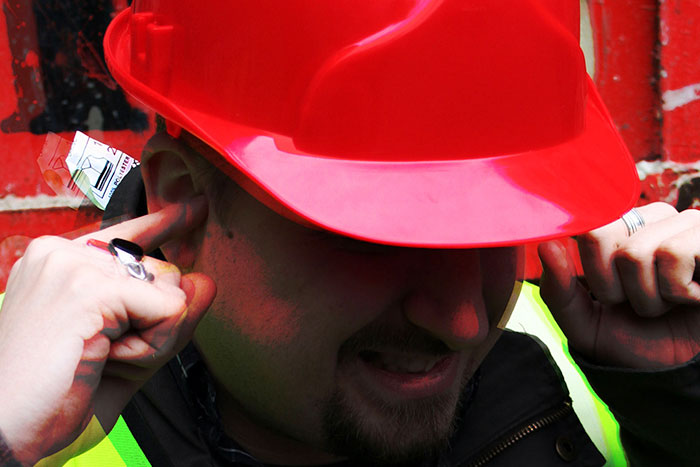 Anyone who is exposed to noise is potentially at risk. The higher the noise level, and the longer you are exposed to it, the more risk you have of suffering harm from noise. In manufacturing and mining, 40% of employees experience significant noise levels for more than half of their working time.

For construction, the proportion is 35% and in many other sectors, including agriculture, transport and communications, the figure is 20%. It is not only manufacturing and other traditional industries where noise is a problem. Noise is recognised as a problem in service sectors such as education and healthcare, bars and restaurants.
A study of noise in kindergartens found some averaging noise levels over 85dB
During a performance of Swan Lake, a conductor was recorded as being exposed to 88dB
Truck drivers can be exposed to 89dB
Staff in nightclubs can be exposed to up to 100dB
The above information shows that many workers across a large range of industries daily are exposed to noise levels that sooner or later will give hearing problems if proper hearing protection is not being used.

A single, very loud sound (such as an explosion or gunshot) can cause noise-induced hearing loss, but most people get it from regular exposure to sounds of 80 dB and above. Whether noise is encountered on the job or in the community, most people are at risk for noise-induced hearing loss if they don't take precautions.

Exposure to noise may pose a variety of health and safety risks to workers:
Hearing loss
Physiological effects
Work-related stress
Increased risk of accidents
For better understanding about noise and noise levels, download the Noise Thermometer and read documents about Noise and Hearing Protection.
Protect yourself from noise-induced hearing loss
The revolutionary ACS Pro Series protects your hearing without making you feel isolated from your environment. Custom moulded to your ears, these professional hearing protectors are manufactured from soft, medical grade silicone. They are comfortable, discreet and are available in a range of colours and levels of attenuation (damping) to suit a wide range of ambient sound levels.


Discomfort and over attenuation are two of the main factors that result in incorrect fitting and use of hearing protection, especially when using disposable foam ear plugs or earmuffs. ACS Pro filters provide a large open air passage into the ear so minimising occlusion (blocked up sensation) and keeping the ear ventilated for the ultimate in user comfort.

Choosing the correct level of attenuation is vital. Over attenuation takes the user away from their environment, increasing the level of occlusion, making them detached. Over attenuation and non-linear attenuation is a risk especially in a work environment.

ACS Pro filters, are available in a range of fixed attenuation levels for different exposure levels ensuring that the correct level of noise is reduced. Our membrane technology in the acoustic filters ensures the user hears sound in a natural way and that speech can be heard.

Read more about ACS custom made hearing protection and communication products.