About PSS Waterproofing
PSS Waterproofing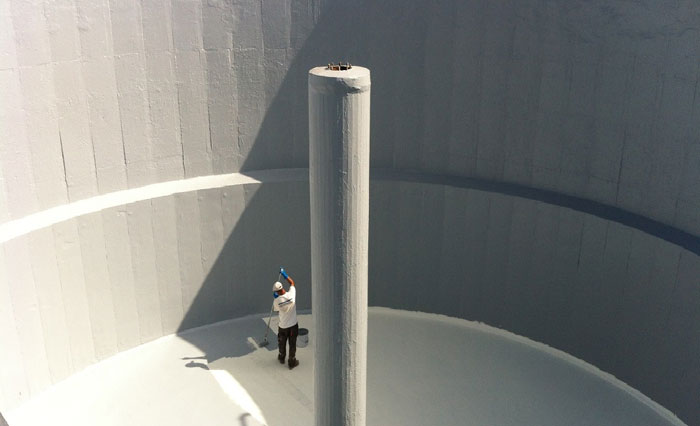 It is inherent to the human being to protect from elements the buildings where it inhabits, meets or works. Perhaps the most recurrent, pervasive and devastating element is the water. Since the beginning of time men have been concerned about protecting their shelters from the action of water. Moreover, since the water has been and is an extremely valued element necessarily for life, one of the worries of the human being has been to build structures to allow water retention and accumulation.

In PSS we design and execute waterproofing works for concrete structures under water table (foundations, car parks, basements, etc) and hydraulic infrastructures (reservoirs of drinking water, plants waste water, pipelines, dams, etc.) in order to reduce to the minimum water losses and leakages. We offer a broad range of waterproofing solutions for all types of structures. Since there are many different waterproofing systems, we can support you in finding the right waterproofing solution for your needs.

PSS waterproofing systems are based on the use of special cementitious mortars of capillary crystallization and on a variety of injection waterproofing repair techniques. PSS has highly trained applicators and consultants in the field of waterproofing technologies, using only products of the highest specification. Each situation is individually assessed and the correct product is specified for its repair.

OUR CONCRETE WATERPROOFING SYSTEMS

PSS Watex
PSS Watex is an integral system of waterproofing and protection of concrete structures based on the use of special mortars of capillary crystallization. The special characteristics of such products, coupled with the experience of our team makes PSS Watex system in an extremely effective solution in the waterproofing and protection of structures under water table (foundations, car parks, basements, etc).
The PSS Watex products penetrates deeply and seals concrete's capillary tracts and shrinkage cracks, becoming an integral part of the concrete. The system can be applied from either the positive or negative side and waterproofing and chemical resistance properties remain intact even if the surface is damaged.
The PSS Watex system has available also a specific range of products approved for use in contact with potable water and in sewers and sewage treatment plants, specifically designed to cope with the additional stresses caused by continuously changing degree of contamination, environmental effects, fluctuating liquid level and formation of aggressive microclimates in sealed holding tanks.

PSS Aquactive
The PSS Aquactive is a system based on hydrophobic polyurethane injection grouts which cures to a durable, closed cell polyurethane foam which is resistant to most organic solvents, mild acids, alkali, petroleum and micro-organisms. PSS Aquactive is designed to fill joints and cracks in concrete, as well as large voids in gravel layers and rock fissures. Due to its quick cure time it can also be used to stop active water leaks.
Polyurethane resins are available with substantial variation in their physical properties. Some of the polyurethanes cure into flexible foams; other polyurethane systems cure to semi flexible, high density solids that can be used to rebond concrete cracks subject to movement.

Structures built on sub grade material that have been subjected to movement by ground settlement, especially those structures constructed on unstable fine media, pose an engineering challenge for their stabilisation. Most materials traditionally used for ground stabilisation have a molecular structure which restricts their penetration into fine media. The PSS Aquactive system has a special range of resins with water like viscosity, that is able to penetrate into voids between fine grains with a tailor made set time. The products compressive strength fulfils most geotechnical engineering requirements.

Roofing
Roof waterproofing coating is very important. Roofs are not just visual features; they fulfil the crucial role of protection. Be it a classic flat roof or a dome roof, every roof structure has a unique character. Being the highest point in a building, they take a battering from the elements and leaking is common after a few years. PSS offers liquid-applied Polyurethane & Polyurea waterproofing systems for roof coating with long-term protection for simple, detailed or complicated roof structures.

Exposed areas like roofs, balconies, terraces, walkways, loggias, the roofs of underground car parks used as plazas and outdoor seating areas can be decorated also with our decorative waterproofing system, which offers long-term protection against decay and on the same time provides a beautiful environment for those that use it the waterproofed surface year after year.

OUR ROOFING SYSTEMS

PSS Elastop
PSS Elastop is the technologically advanced, premium liquid polyurethane waterproofing system that offers guaranteed long lasting results. It can be used as a new flat roof coating, but also for repair or renewal. It can also be applied to any sort of roof.

The PSS Elastop system consists of different products, dependant on the roofs characteristics. When applied, it forms seamless membrane without joints, resistant to water, heat and frost and to root penetration. It is water vapour permeable and provides excellent thermal, weather and UV resistance. It also provides high sun reflectivity, contributing to thermo insulation. It can be used for pedestrian and vehicular traffic and remains flexible over a temperature span of -40oC to +90oC.

PSS Decoflex
Waterproofing, crucial for the life of the building, doesn't need to look boring! Professional, long lasting waterproofing can be done in such a way that the waterproofed surface is decorative, contributing to the value of the properties.
Exposed areas like roofs, balconies, terraces, walkways, loggias, the roofs of underground car parks used as plazas and outdoor seating areas can be decorated with the PSS Decoflex system. The finishing colour, pattern and texture can be chosen from a palette of colours, meeting every landlord, tenant or architects decorative demand.

07 10 00 - Dampproofing and Waterproofing
07 14 00 - Fluid-Applied Waterproofing