About PSS Decorative Flooring & Coating
PSS Decorative Flooring & Coating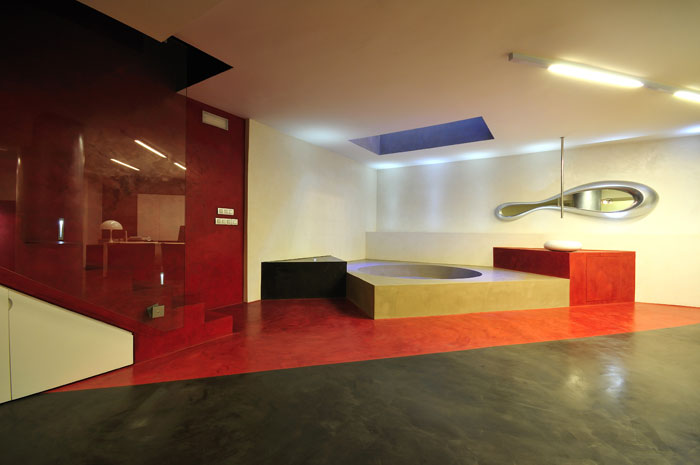 We are all different, we live in different ways. We are different in our tastes, lifestyles, personality. At PSS we know that every person, every family, every business, needs its own space, a unique and inimitable for living and working environment.

For this reason, all our projects are unique. In PSS, we collaborate with the most prestigious designers of coatings of the world to offer the ultimate in high decoration and technology to our clients. Coatings more durable, more resistant, more customizable.

At PSS we offer you materials accompanying you without problems in your everyday life, design thinking in the atmosphere, the comfort and performance.

OUR DECORATIVE SYSTEMS

Crystal Inlay
Crystal Inlay is a high performance plaster product suitable for both interior and exterior installations and provides the user with a premium surface finish for an unlimited variety of applications.
A seamless finish suitable for walls, floors, ceilings, kitchen countertops, artistic installations and tested and approved for submerged wet areas such as showers, wet rooms, swimming pools and spas. Crystal Inlay is also suitable for low speed vehicle traffic.

Crystal Inlay is made up of two main parts. High strength adhesive and modified polymer screed that is mixed with different particle parts such as crystals, semi precious stones, jewels, recycled glass and natural stones.

Topcret
Topcret is a liquid, polymer-modified, high strength cement based overlay designed to restore and resurface existing surfaces. Topcret can be applied on walls and floors of concrete, mortar, ceramic, terrazzo, granite, marble, DM, wood, plaster, plasterboard, glass, iron and steel. When properly installed it permanently bonds to the surface and becomes perfect for high traffic areas.

It is inspired by Tadelakt, an Arabic word that means tight and burnished earth or plaster and refers to the use of the technique/material, employed in North Africa, although its origin and circulation are situated in the Roman Empire.

T-Fashion
The word 'Terrazzo' is derived from the Italian word Terrazzo and was created in the fifteenth century when the Venetian marble masons, from the area of Friuli, discovered new uses for marble debris. They began to use these 'leftovers' of marble in order to cover the surface of the open "terraces" around their houses and which they later treaded on to make compact.

T-Fashion is a polymer modified cementitious in-situ continuous terrazzo flooring which cover the different functional, architectural and aesthetic demands of today. An extremely multi-functional flooring due to its aspect and durability that is perfect for the most demanding of needs and uses.

T-Fashion allows for a perfect fit in the most modern of constructions and buildings. With a sober and minimalist aspect, the aesthetic possibilities of the finished product have given way to avant-garde projects where the 'terrazzo' is the star feature.

Koncret-E
Its Latin name, concretum, has become synonymous throughout history with strength and durability. Koncret-e, a polished concrete floor, is a flooring concept with a technique that makes concrete more than just strong and hard-wearing. After many grinding stages with diamond tools, the result of this process is a stronger, more durable, shiny and beautiful polished concrete floor.

Koncret-e concrete floors are low-maintenance, as they are more durable and easier to clean than many flooring options. Its relatively high coefficient of friction can make it non-slippery. Koncret-e concrete reduces dust mite and allergen problems, and does not support mould growth.

Koncret-e concrete is a good sustainable design flooring option because it makes use of the materials already present. Most modern buildings are built on a concrete slab; polishing the exposed concrete eliminates the energy and material consumed by applying a floor covering. It is something to consider when building or modernizing towards a more green solution.

09 60 00 - Flooring
09 67 00 - Fluid-Applied Flooring
09 97 00 - Special Coatings