Smash-Resistant Laminate Film Thwarts Unauthorized Entry, Smash and Grab Attempts
Boon Edam Inc., a global leader in security entrances and architectural revolving doors, unveiled a new solution designed to prevent vandalism amongst a range of its glass-equipped security entrances at ISC West 2023.

New smash resistant laminate film works to keep glass intact upon impact after an attempt(s) to break the glass is made. The result is a strong barrier of glass that protects against unauthorized entry and smash and grab burglaries while deterring further criminal behavior.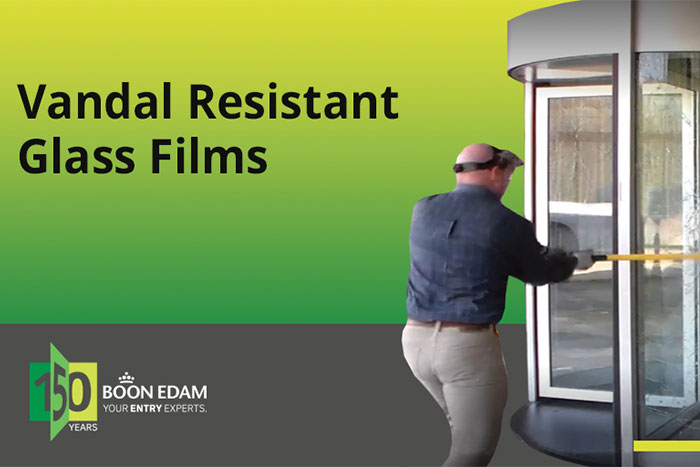 "The addition of vandal resistant glass to our product offerings was based upon a growing number of customer requests after they themselves experienced a rise in aggressive property crime," said Kurt Measom, Vice President of Product and Technology, Boon Edam. "We are confident that this solution can effect real change in terms of discouraging criminal behavior and preventing losses for deploying users, once again increasing the ROI afforded by our products."

The smash-resistant laminate film can be applied to Boon Edam's Tourlock, Circlelock and Lifeline Swing series of products. When applied, the film causes glass to crack like a spider web when hit, instead of shattering into multiple pieces. Because the glass cannot easily be broken through, the time spent attempting to gain access via the vandal resistant glass either deters additional attempts or provides security enough time to take remedial actions.

When tested on the Tourlock series of revolving doors and Circlelock series interlocking portals, the smash resistant film prolonged attempted breaking and entering by up to 10 minutes. When applied to the Lifeline Swing series of optical turnstiles, the film keeps the lane operational until the glass can be replaced.
@RoyalBoonEdam #RoyalBoonEdam #Security #Turnstiles #RevolvingDoors
Categories: