Surfin' Safari In The Brazil Jungle – Thanks To Penetron Waterproofing Technology
The December 2023 completion of the US$ 320 million Boa Vista Village development opens an attractive new leisure destination on the doorstep to São Paulo, Brazil's largest city. PENETRON ADMIX, a crystalline waterproofing admixture, was specified for the concrete structure of the community's Wave Machines surfing wave pool to help keep the waves rolling.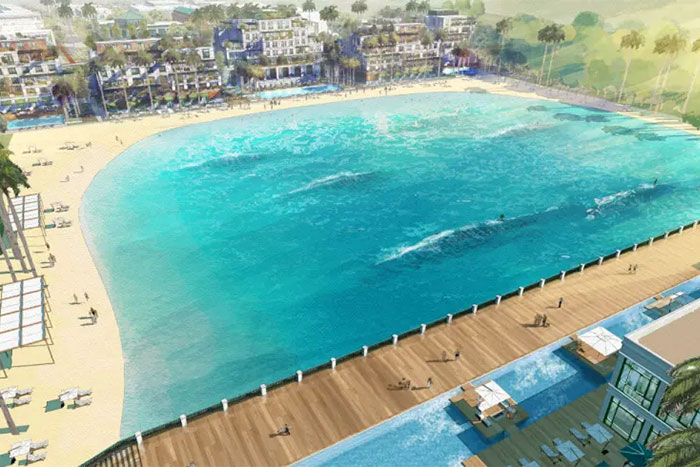 Boa Vista Village is an upscale residential development in the city of Porto Feliz, a municipality of around 54,000 inhabitants in the Brazilian state of São Paulo, less than 1 hour northwest of the city of São Paulo. The development is situated in a 3 million m² (1.16 square miles) area of mostly lush forests, lakes, and landscaped open spaces.

Conceived as an exclusive leisure community with luxury apartment units, stand-alone houses and villas, Boa Vista Village offers virtually every imaginable attraction, including two 18-hole golf courses (one designed by Arnold Palmer), a world-class equestrian center with polo fields, tennis courts, wellness spa, child daycare facility, several forest hiking trails (including a 3.4 km running track), and a model farm as a culinary "farm-to-table" destination.

"Last but not least, one of the highlights of the Boa Vista Village is the state-of-the-art American Wave Machines pool, one of the largest of its kind in the world," says Cláudio Neves Ourives, CEO and Managing Partner of Penetron Brazil. "Utilizing the patented "PerfectSwell" technology, this wave pool recreates a beach environment far from the coast with waves large enough to attract surfers."

The "PerfectSwell" technology is based on an air-pressure system to create ocean swells for authentic surfing conditions that accurately replicate point break, beach break, and reef break surf. This type of wave pool can be constructed without walls or boundaries, allowing a range of layout configurations complete with beach areas.

"Underlying the wave pool and wave-generating machinery is a reinforced concrete basin," adds Cláudio Neves Ourives. "It's this concrete structure that must withstand constant contact with water – an ideal application for PENETRON ADMIX, a crystalline waterproofing admixture that has successfully been used in similar wave pool applications around the world."

Concrebase Serviços, the project's ready-mix concrete supplier, added PENETRON ADMIX to the concrete mix used in the foundations, floor, and walls of the wave pool (as well as in the concrete structures of the wellness spa facility). PENECRETE MORTAR, a crystalline waterproofing repair mortar, was used to seal the resulting concrete joints and formwork tie holes.

As a permeability-reducing admixture for hydrostatic conditions, as defined by the American Concrete Institute (ACI), the crystalline technology contained in PENETRON ADMIX enables concrete structures to resist water penetration against hydrostatic pressure. Even microcracks in the concrete that form during the lifespan of the concrete structure can self-heal. As an integral part of the concrete matrix, the admixture stays active for the service life of the concrete, providing continuous protection and waterproofing.

"Because Penetron-treated concrete is much less permeable and more resistant to moisture and chemicals, the Boa Vista Village wave pool is going to last a long, long time," adds Cláudio Neves Ourives.
#penetron #waterproofing #concreterepair
Categories: