Swedish University Hospital In Malmö Is Built On Penetron
In December 2020, the Skåne University Hospital in Malmö, Sweden inaugurated a new service building and a morgue. Because of high groundwater conditions, a reliable waterproofing solution was required. PENETRON ADMIX was specified to waterproof and protect all below-grade concrete structures at the hospital.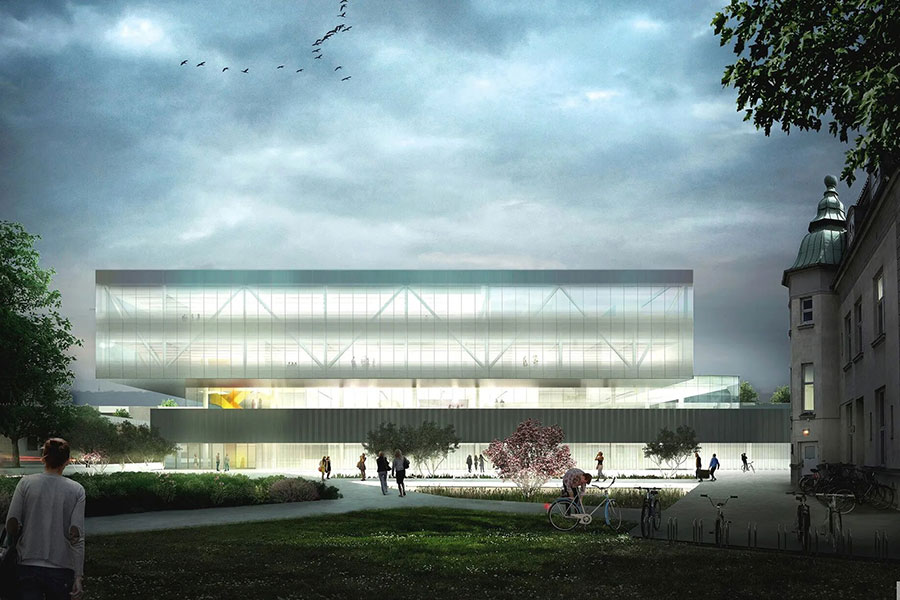 Situated along the Öresund Strait across from Copenhagen, Denmark, Malmö has a population of about 320,000 inhabitants. It is the third largest city in Sweden and the largest city in Skåne (the Swedish county of Scania).

The Skåne University Hospital (SUS) in Malmö, a merger of the university hospitals of Lund and Malmö, is one of the largest hospitals in Sweden with about 13,000 employees. SUS specializes in pediatric and adult cardio-thoracic surgery as well as heart and lung transplants.

Two Buildings, Two Vastly Different Roles
The recent completion of the hospital's new service building and the adjacent morgue are part of an ongoing 6 billion kronor ($640 million) infrastructure upgrade for the Malmö complex. Designed by Tengbom Arkitekter, an international architectural firm, the service building presents as a stark rectangular glass house that symbolizes the efficiency and transparency of the activities inside. The new service building supplies the SUS complex with consumables such as textiles and food, but also medicine and samples.
The adjacent morgue, named På Liv och Död ("In Life and Death"), is a separate building, which functions as both a dignified repository for the deceased and a sanctuary for families to commemorate and grieve.
"When you think of a 'service building' you may not associate it with the facades of glass designed by the Tengbom architects. For passers-by, the transparent walls allow views of the robots inside, moving back and forth to fulfill orders," says Robert Moen, CEO of PEN-TEC Nordic, the Penetron distributor for the Scandinavian region. "In contrast, the more closed design of the new morgue creates a calm, contemplative atmosphere."
Due to the severe groundwater conditions at the construction site, PEN-TEC Nordic collaborated with Swerock, the project's ready-mix concrete supplier, on an effective concrete mix design. Swerock provided approximately 7,000 m3 (9,200 cubic yards) of PENETRON ADMIX-treated concrete for the foundation slabs and the retaining walls of both buildings to ensure a durable and completely waterproof solution.
Crystalline Formation Ensures A Long Life
When mixed into concrete, the proprietary chemicals in PENETRON ADMIX react to moisture in the concrete to generate a non-soluble crystalline formation in the pores and capillary tracts of the concrete. This formation permanently seals micro-cracks, pores and capillaries against the penetration of water or liquids from any direction.
"The new buildings were completed on time and now complete an attractive square on the SUS campus," adds Robert Moen. "Thanks to Penetron waterproof technology, it will be around for a long time."
#penetron #waterproofing #concreterepair
Categories: