About Cold Rooms
Brochures

Cold Rooms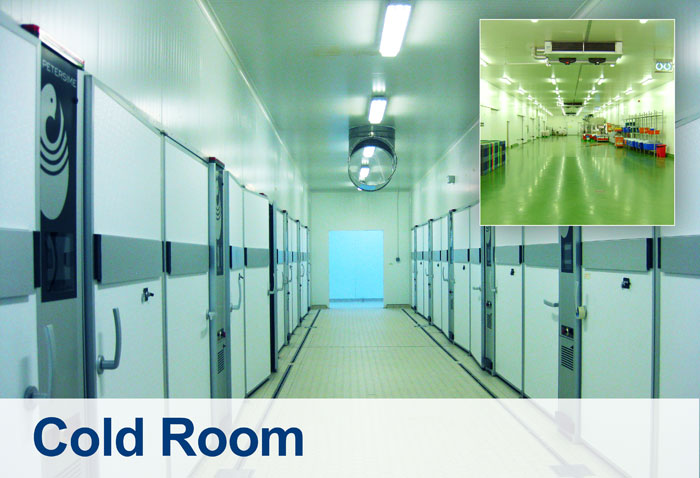 TSSC, a primary member of Harwal Group is the largest manufacturer in the Middle East for insulated composite panels used in roof and wall cladding. The company complies with ISO 9001:2008 quality management system in manufacturing a wide range of building materials for the construction industry. In addition to this, TSSC also manufactures refrigerators, metal racking systems, cold rooms, refrigerated vehicle bodies and metal sheds.
TSSC panels find their applications in the construction of industrial buildings, cold rooms and refrigerated vehicle bodies. TSSC installs cold rooms for chiller and freezer applications and the portfolio includes walk-in commercial cold rooms, warehouse cold storages. TSSC also supplies portable skid mounted cold rooms, off shore refrigerated containers and refrigerated vehicle bodies which can be manufactured as per customer specified sizes.
TSSC installs and commissions cold rooms of any specified capacity. We manufacture insulated wall, ceiling and floor panels which can be joined together in necessary lengths to meet customer specified sizes. The state of- the art production facility spread across Sharjah and Dubai in UAE can manufacture panels in lengths of up to 15m (49.2ft).
Insulated panels are joined together in required lengths to assemble cold room walls, ceiling and floor. The panels are tightly joined by the slip joint system, a unique, interlocking, tongue-and-groove joint technology for good structural stability. Another system used for joining the panels together is the camlock system, where camlocks with steel hooks are used to securely lock them together. This makes TSSC cold rooms easily expandable as well as dismountable thus allowing easy reassembly at various locations.
At TSSC, we fully comprehend environmental issues and innovate, develop and deliver green products to meet our customer needs. In compliance with EHS regulations and international standards, TSSC manufactures sandwich panels using environment friendly pentane as the blowing agent. The sandwich panels with rigid PU and PIR foam insulation manufactured using pentane are of high-quality, economical and offer higher compressive strength.

07 21 00 - Thermal Insulation
07 41 00 - Roof Panels
07 42 00 - Wall Panels
11 41 00 - Foodservice Storage Equipment
13 21 00 - Controlled Environment Rooms