The future of design-centric BIM just got brighter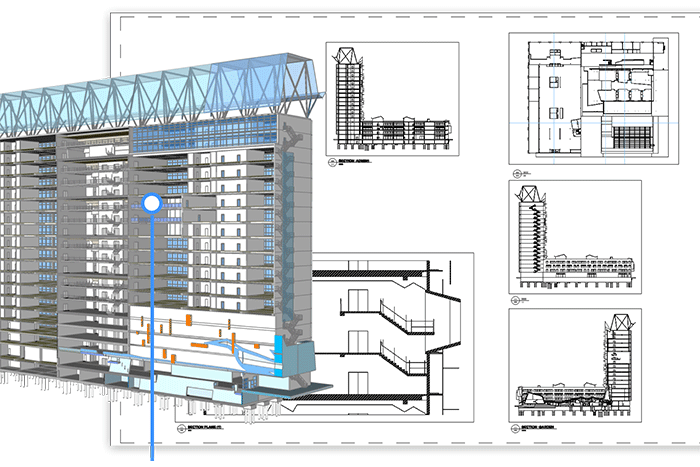 The world's most versatile design-centric BIM workflow just got better, and it is available today. From design through documentation in one product, BricsCAD BIM changes everything.

It brings you the power of advanced solid modelling with the simplicity of sketching programs, and the world-class detailing power you expect from the leader in .dwg-based CAD - all in one, streamlined interface. Welcome to BricsCAD BIM.
What's New in BricsCAD BIM?
BricsCAD BIM now supports the
DWG 2018 format
. Also, new object-enabler technology lets users access the full range of custom civil engineering objects stored in AutoCAD® Civil 3D® .dwg files.
On the design side,
BIM Drag
lets you place multiple solids or groups of solids, easily. When this workflow is paired with the new V18 solid
Manipulator
, 3D mass modelling has never been easier or more direct.
Create Window
lets you build 3D, fully parametric windows from any closed contour. You can vary all elements of your window design interactively in the properties panel. Also new to V18,
parametric arrays
allow you to create dynamic groups of entities, driven by numeric parameters. This functionality gives users great flexibility in creating all types of repetitive objects: windows, staircases, curtain walls and the like.
Machine Intelligence on Your Desktop
Design decisions are your job. Leave the classification work to your computer with BIMIFY.

The BIMIFY command analyses the entire model, and uses geometric information to define IFC classification types and spatial locations for all model entities. The command will respect all user-entered data and not overwrite your manual settings. BIMIFY can automatically create Buildings and Stories as needed.

BIM Classify will classify a single entity, or a user-selected set of entities in a larger BIM, before or after BIMIFY has run. These classifications are grouped into four categories: core, architectural, structural and building services. XREFS are supported as BIM objects, and may be classified and have a spatial location.

Intelligent rooms understand where they are located in the building, and can detect their 3D boundaries automatically. Extended BIM properties include the area and volume of each room, displayed in each room's properties panel.

BIM Suggest supports the concept of "edit once, use many times". Select two solids and BIM Suggest will analyse their connection, then highlight similar connections in the model, where the same junctures can be used. Currently supported junctures are orthogonal ply-by-ply connections between walls, slabs, columns and beams.
Extending and Communicating your BIM
The new Structural Modelling Toolset in BricsCAD BIM recognizes linear solids and can automatically classify them as columns, beams, railings, pipes, ducts and more.

For moving BIM data between applications, the IFC import capabilities of BricsCAD BIM have been greatly improved. Windows imported via IFC are now fully parametric and associative to their adjoining walls.

When documenting your BIM model, Data Extraction now supports ply quantities and materials. The Section command can create interior elevations as volumetric solids with full control over their display properties. Also, interior elevations can be displayed or suppressed to control the visibility of section entities.
BIM doesn't have to disrupt your workflow
Our approach to BIM respects your art by putting design first, at each stage of the process. From the most intuitive design process to the most comprehensive construction documentation, BricsCAD BIM just gets it right.

www.bricsys.com