The New BACnet Controller: One Building, One Language
Simplifies system integration into building automation: the new BACnet controller (750-831) from WAGO.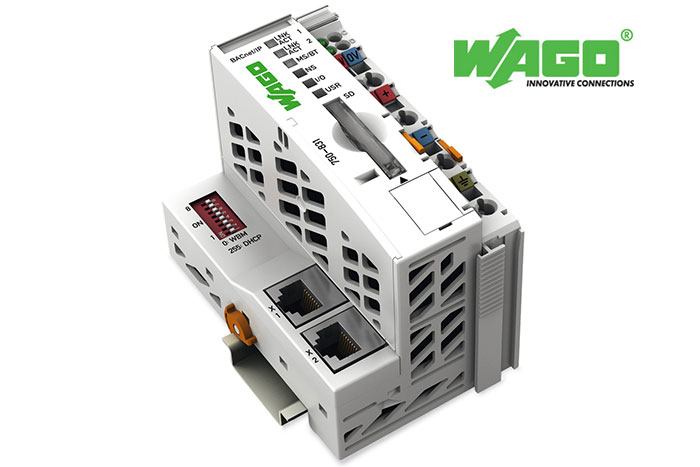 A number of different protocols exist in building engineering, and in large-scale projects in particular individual disciplines often develop independently of one another. The new BACnet controller (750-831) from WAGO seamlessly integrates technology islands with different protocols, such as LON® or DALI into one system. This helps reduce building automation complexity, along with the effort and costs involved for installation and maintenance.
The freely programmable BACnet controller based on IEC 61131-3 is a "Bacnet-Building Controller" (B-BC) device type. Compared to its predecessor (750-830), the available program memory of this new controller is twice as large, while data storage was increased four-fold. At the same time, this new controller supports SD card functionality, meaning that data such as the "Trend Log" object can be archived externally. Besides this, there is more space available for Web visualization when an SD card is used, and background images and building ground plans can be stored and processes displayed graphically. An ETHERNET line topology can also be set up using the 2-port switch integrated into the controller.
Even more support is provided to the user in the so-called native mode, in which the BACnet controller automatically generates compatible BACnet objects for the digital and analog hardware data points of all the I/O modules to which it is linked. The benefits: The controller is immediately ready for operation once an IP address has been assigned via the address switch. This feature reduces the configuration effort required, which can be considerable for complex systems. Additional BACnet objects can be easily created using the BACnet configurator, or the WAGO-I/O-PRO software with CODESYS.
The WAGO-I/O-SYSTEM 750
The fieldbus-independent WAGO-I/O-SYSTEM 750 is approved for a wide variety of applications. Featuring finely modular components, the WAGO-I/O-SYSTEM meets all the requirements for distributed fieldbus systems. Depending on the application, it is possible to choose between fieldbus couplers and controllers (PLC) for different protocols. With 400+ digital, analog and specialty I/O modules, the WAGO-I/O-SYSTEM 750 offers scalable performance and high integration density with an unbeatable price/performance ratio.
More power, more storage space, more interfaces: The BACnet controller (750-831) is equipped with two ETHERNET ports, an SD slot and an address switch.