The New FLIR Exx-Series: Advanced Thermal Imaging Reimagined from the Handle up
FLIR EXX-SERIES FEATURES
Quick, precise continuous focus
Laser-assisted autofocus responds instantly to movement, maintaining focus even in cluttered surroundings
Intuitive interface and navigation
Capacitive touch screen and convenient menu buttons make it easy to navigate and operate the camera with one hand
Clear view at any angle
Vivid 4" LCD display with a 160° viewing angle helps you keep an eye on the thermal image as you work
Superior MSX® scene enhancement
Patented MSX® technology is now even better, thanks to a re-design that brings the visual and IR cameras closer together
High temperature calibration
Exx-Series cameras offer wide measurement ranges (-20°C to 120°C, 0°C to 650°C, and 300°C up to 1500°C)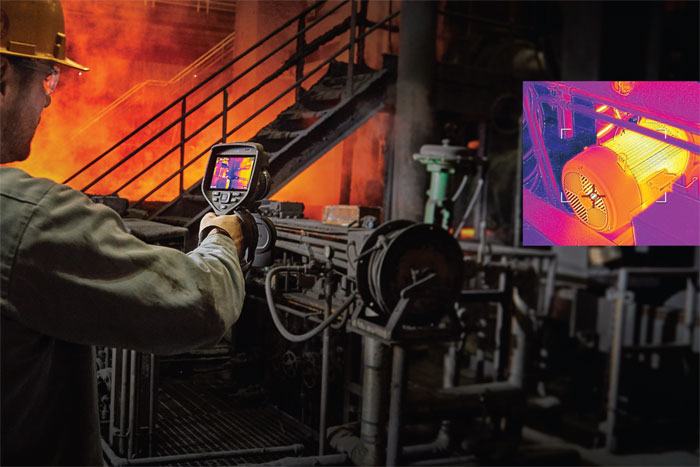 ELECTRICAL & MECHANICAL
It takes the right tools to quickly identify potential points of failure in an electrical or manufacturing environment, especially since many of these components are impossible to reach. That's why the new FLIR Exx-Series of thermal imaging cameras offers superior resolution, precise laser-assisted autofocusing, and the option of interchangeable lenses – so you can target any component, survey from top to bottom, and avoid costly shutdowns.
BUILDING
Inadequate insulation, moisture intrusion, and building envelope deficiencies are critical faults that can be hard to find. So the new FLIR Exx-Series of thermal imaging cameras offers the superior sensitivity and performance you need to detect subtle temperature differences, and the wide field of view to target broad areas – so you can locate problems and fix them, fast.
Models
FLIRE75
The FLIR E75 has the sensitivity and resolution needed to diagnose problems and find hidden deficiencies – even from a distance.
FLIRE85
The FLIR E85 is packed with high performance features, offers wide temperature ranges, and measures area (m2 or ft2) on-screen.
FLIRE95
The FLIR E95 offers the great features of the E75 and E85, plus up to 161,472 points of temperature measurement.
Download Datasheet for Electrical and Mechanical Applications
Download Datasheet for Building Applications
Categories: