THERMATEX Aquatec - the sound absorbing ceiling tile for wet areas
In rooms with permanently high humidity, such as swimming pools, sanitary facilities or large kitchens, special demands are placed on the ceiling in terms of humidity resistance. For walls and floors tiles and comparable coverings offer enough protection and are unproblematic with regard to cleaning. Yet, the ceiling area is often left out of consideration during planning and is underestimated regarding to its requirements.

Knauf AMF offers the perfect solution for these special applications with the ceiling tile THERMATEX® Aquatec. Thanks to its special composition, THERMATEX® Aquatec shows moisture resistance of up to 100% RH (relative humidity) and therefore is dimensionally stable when exposed to high humidity in the interior. The ceiling system is completed with corrosion resistant grid and accessories, because high humidity and possibly corrosive contamination can also affect the grid construction.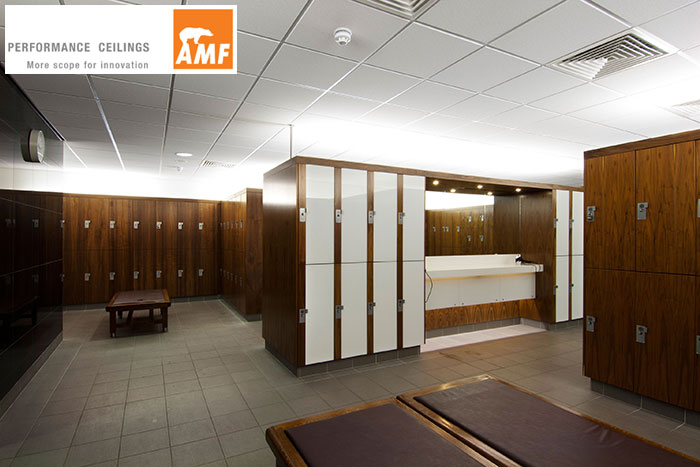 Yet, not only stability is important.

Also the hygienic aspect and therefore health issues have to be taken into consideration. THERMATEX ® Aquatec can be easily cleaned because of its plain white fleece surface. So the surface is freed from sediments, dust and dirt and the growth of bacterium and pathogens will be prevented effectively. The AMF ceiling tile can be cleaned wet and even pressure cleaning is possible. Typical fields of application include health care facilities like hospitals, clinics or medical practices as well as industrial production lines in the food industry etc.

Another requirement may play a big role, as in some contexts clean rooms are inevitable. With a clean room a defined area is created, where working under absolutely "clean conditions" is possible. Clean rooms provide control of contamination by air circulated particles to a specific measured level. Therefore all elements intended for clean room use, including ceiling systems, must comply with stringent particle emission standards. The classification of air purity according to DIN EN ISO 14644 is the most popular standard for clean room technology. It divides clean rooms into classes from ISO 1-9, among which class 1 stands for the highest level of purity. THERMATEX® Aquatec reached class 3 in the test.

Plain surfaces with good sound absorption have been a contradiction in terms up to now, yet they are an acoustic urgency for patient's rooms and sensitive areas. Meanwhile adjusted reverberation times and sound level minimization have become important factors in the healthcare system and rehab facilities. With a sound absorption value of αw/NRC = 0,90 THERMATEX® Aquatec is perfectly equipped to meet also these requirements.

Please contact us for further information material. Tel.: +49 8552 422-0, Fax: +49 8552/422-30, via Email [email protected] or under www.amf-grafenau.de
Categories:
09 51 00 - Acoustical Ceilings