Turn Your Smart Phone into a Brilliant Phone with Flir ONE for iOS and Android
PROPRIETARY MSX TECHNOLOGY
FLIR ONE features both FLIR's revolutionary Lepton thermal camera and a VGA visible light camera. Using MSX Technology, FLIR ONE blends images from both cameras to create thermal images with enhanced detail and resolution.

DEVICE COMPATIBILITY
FLIR ONE easily connects to Apple mobile products containing a lightning port, including iPhone 6 / 6 Plus smartphones and iPads.

NON-CONTACT TEMPERATURE MEASUREMENT
FLIR ONE enables you to measure the temperature of any spot in a scene between -4°F and 248°F (-20° to 120°C). It can also detect temperature differences as small as 0.18° F (0.1° C)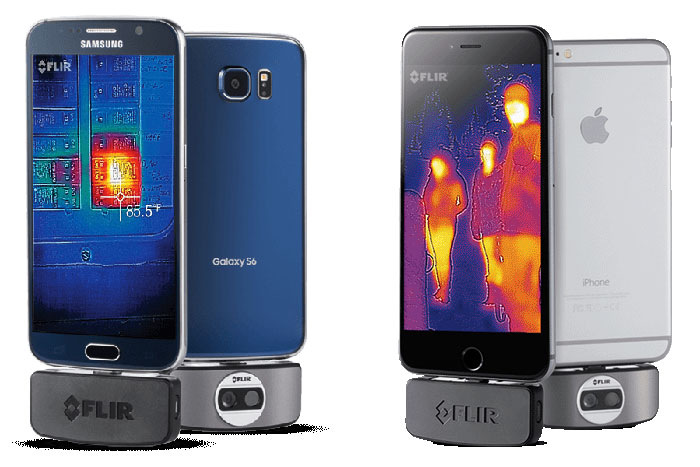 LEFT: FLIR ONE for Android, RIGHT: FLIR ONE for iOS
FLIR ONE FEATURES
Radiometric
FLIR ONE can measure temperatures on any spot in a scene between -4°F and 248°F (-20° to 120°C).
Warranty
FLIR ONE's warranty covers defects in materials and workmanship for one year, or 18 months with registration.
Palettes
Select between seven dynamic video palettes, including B/W, W/B, rainbow, contrast, arctic, hot/cold, and iron.
Compatibility
FLIR ONE attaches to any Apple mobile device with a lightning port or Android mobile device with a micro-USB port.
FLIR ONE App
Explore additional features like FLIR ONE Panorama™, FLIR ONE TimeLapse™, and FLIR ONE CloseUp™ functions.
Sharing
FLIR ONE App allows you to share thermal images and videos to the social media platform of your choice.
COMMON USES
AT HOME: Put more things on the "Did It Yourself" list.
FLIR ONE can help you isolate places of possible warm or cold air leaks to optimize your home's energy efficiency; identify wet areas and potential leaks in ceilings, walls and floors before mold starts, and spot overloaded electrical connections at the source. This tool is the handyperson's best friend and a must-have for your DIY days.
Learn More
AT WORK: Work faster, smarter and safer.
Whether you're looking for water leaks, trying to find the source of something that smells hot, or searching for lost pets at night, FLIR ONE lets you see things you couldn't before.
Learn More
AT PLAY: Bring playtime to a whole new level.
This summer, have longer days as you observe wildlife and navigate trails in complete darkness. Have more restful nights by checking your campsite for animals, or a smoldering fire, from the comfort of your tent. And have more fun putting a spin on a night game of hide-and-go-seek.
Whatever your activity of choice, you'll find FLIR ONE to be a complete game-changer.
Learn More
Categories: