About Multi
Brochures

Multi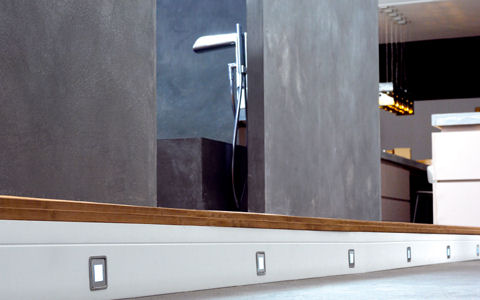 Eyeleds® Multi, a single, linkable version of the popular 'Floorleds', floor lighting system, features a built-in depth of just 6,5 mm and offers revolutionary possibilities to be creative with light. The Eyeleds® Multi fixtures come with two 80 cm cables with a male and female IP67 plug connector, pre-attached.
Eyeleds® Multi fixtures can be used as interior design accents, guide or night-lights. Additionally, this system can be installed into existing flooring by accessing the floor below to link the connectors together through a basement or crawl space.
Eyeleds® Multi are available as Multi Round, Multi Square and Multi Guide.
Features & Benefits

Minimum recess dept of only 6,5 mm
Extreme long lifespan up to 100,000h MTBF
Walk-over construction up to 285kg
Available in modern finishings
Available in the colors: white, blue, amber, red and green
Possible Applications

(Existing) Flooring
Stairs stringers / risers / steps
Walls
Ceilings
Baseboards
Wainscoting
Countertops
Backsplashes
... and every other material > 6,5mm!

News archive:
NEW! Warm white light for Eyeleds® Floorleds, Multi & Outdoor Extreme Series. (3 Jun 2009)
26 51 00 - Interior Lighting
26 55 00 - Special Purpose Lighting

Categories: LED lighting.