About Eyeleds Outdoor Basic
Eyeleds Outdoor Basic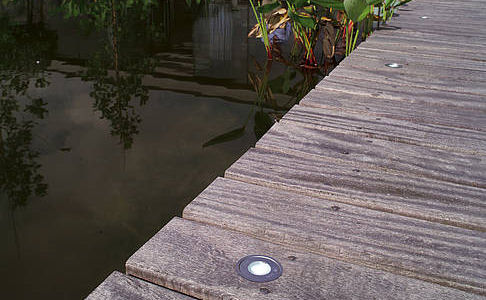 Eyeleds® Outdoor Basic is an outdoor surface lighting solution, driven by energy efficient and long lasting LED technology. One of the first low-profile, permanently installed, recessed residential/commercial LED outdoor surface lighting systems of its kind.
Eyeleds® Outdoor Basic, low profile LED light fixtures, install flush into almost any smooth exterior surface via a recessed 6,5 mm deep 40 mm wide hole drilled into the surface material.
Eyeleds® Outdoor Basic comes with special IP67 connection boxes, that ensure easy cable connections and extensions. The fixtures are made of top quality materials that are resistant to corrosion and UV-radiation.
Eyeleds® Outdoor Basic lighting systems are engineered to withstand heavy traffic. Walking - or even driving over them - is of no problem.
Features & Benefits

IP67 approved (high degree protection against dust and moisture)
Top quality SMD LED light source
Scratch- and UV resistant and shock proof
Solid "walk/drive-over" construction, designed for loads up to 2850N/285kg
Low energy consumption, only 0,3W per light unit
Low operation temperature (LED unit remains below 35°C)
Extreme long lifespan up to 100.000 hours
Possible Applications

Decking
Railing
Terraces
Drive Ways
Plank-bridges
...

26 50 00 - Lighting
26 55 00 - Special Purpose Lighting
26 56 00 - Exterior Lighting

Categories: LED lighting.