About In Back/Out Front Range
In Back/Out Front Range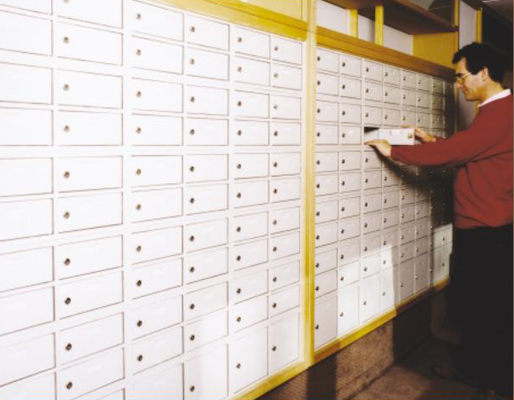 This range of products is designed to receive the mail through the back of the mailbox. The mailbox holds the mail which is then accessed by opening the lockable door on the inside face. Ideal for mounting onto the inside surface of an exterior door, boundary wall or fence where the postman cannot gain access to the actual building or site, or when banked together to form a sorting facility.
The Homeguard range was the first mailbox produced by the Safety Letterbox Company Ltd. The unit was originally designed to fit onto the inside face of a domestic front door and contain not just the mail but also dangerous unwanted materials such as burning rags, fireworks etc. The mailbox therefore was classed as a safety device and these unique features gave rise to the company name ¿ The Safety Letterbox Company Ltd.
10 55 00 - Postal Specialties
10 55 13 - Central Mail Delivery Boxes
10 55 16 - Mail Collection Boxes
10 55 23 - Mail Boxes
10 55 91 - Mail Chutes
10 55 00 - Postal Specialties

Categories: letterboxes letter boxes mailboxes mail boxes commercial mailbox postal rooms po boxes, post office boxes.