About Application of LECA in Agriculture and Landscape
Application of LECA in Agriculture and Landscape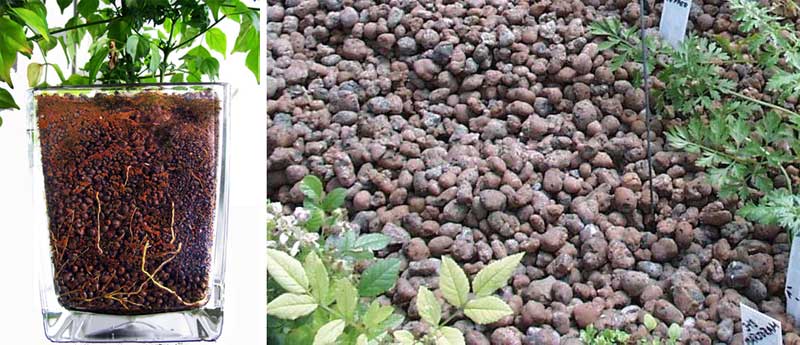 LECA's porous micro-surface texture and interior porous structure resist clogging and provides superior aeration that promotes growth of delicate, fine root systems.
LECA is produced by high temperatures therefore, this process makes LECA sterile and environmentally inert. It is a natural, non-toxic, highly absorptive ceramic granule with a generally neutral pH. It is dimensionally stable and will not degrade or compress like other amending products. LECA does not need to be re-applied year after year.
A healthy soil profile can be difficult to maintain. Since most soils consist of solid particles, water and air, it is necessary to maintain a careful balance of these elements in order to establish a healthy root system. Generally, a good soil profile is approximately 25% water, 25% air and 50% solid particulate matter. However, when soils are compacted, an imbalance occurs. Solid particles are pressed together, and water and air are squeezed out.
With less pore space, soils become too dense for the movement of air, water and nutrients, and the favorable environment for the beneficial microbial activity necessary in a healthy growing medium is lost. The most important result of compacted soil is decomposition or putrefaction of root which it is very usual problem of plants soil or sweet soils, therefore with Leca can avoid compact or solid conditi on and prepare required air to protect root from attacking of bacteria at this condition.
The blending of LECA with your soil mix easily and economically restores and maintains this delicate balance. As other advantage, the soil weight will be reduced by this lightweight soil mix, therefore it is opportunities offered for reduced dead load of grass or landscapes area on the floors and obviously earthquake load of structure.
As a result, LECA has a great capacity for absorbing and storing water. As the soil dries this stored water migrates back to the soil helping to maintain optimum moisture levels.
In addition to above, LECA has other quality improvement such as following:
Increase air space for healthier root development
Reduce compaction of soil and Increase soil porosity
Reduce of sweet soil weight
Reduce labor cost through more efficient watering
Increase profits with quicker crop turnover and higher plant quality
12 92 00 - Interior Planters and Artificial Plants
31 00 00 - Earthwork
32 00 00 - Exterior Improvements
32 90 00 - Planting
32 91 00 - Planting Preparation
32 93 00 - Plants
32 94 00 - Planting Accessories

Categories: Leca aggregates, agriculture, plants, hydroponics, healthy soil profile, lightweight agriculture soil, sightweight sweet soil, absorption, lightweight soil mix.