About Lindner FLOOR and more G 40
Lindner FLOOR and more G 40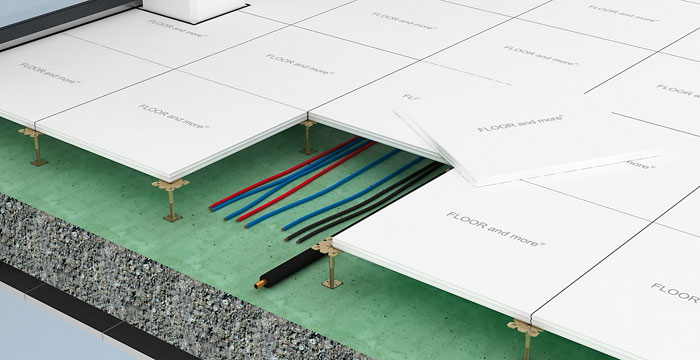 The FLOOR and more® hollow floor is particularly impressive in terms of stability and environmental compatibility. The system is formed by gluing a pedestal substructure to panels made of calcium sulphate and allows for a particularly quick installation, with a jointless and perfectly smooth surface.

Lindner's calcium sulphate implicates superlative structural and physical properties: incombustible, exceptional load bearing capability, outstanding soundproofing, virtually emission-free and can be fully loaded after one day – the ideal product for almost any field of application. The panels for FLOOR and more® are made from recovered paper, recycled gypsum and reprocessed water.

The benefits during the construction phase:

Quick installation
Ready to use after one day
Space for electric and computer installations
Jointless surface
High quality of fire and sound proofing
Special environmental features

There are various combination possibilities of FLOOR and more® with other Lindner systems, offering a great degree of flexibility.

With a range of floor coverings, you can individualise your hollow floor system. In general, all standard floor coverings are available, such as rubber, PVC or carpet; in addition Lindner also offers WOODline and STONEline.

Typical areas of use:

Atriums and reception areas
Museums an Exhibition spaces
Training and research rooms
Office and design areas
Industrial and workshop areas

Follow your ideas anywhere with the flooring system of Lindner – we incorporate your design ideas into the project.

News archive:
Lindner FLOOR and more (5 Oct 2014)
Categories: access flooring, flooring, floor.