Bell & Gossett VSX pumps - a different take on 'custom' design.
Bell & Gossett is an unusual company. It REALLY listens to its customers and it REALLY acts on what it hears. They spoke to more than 300 end-users worldwide, took feedback, and used their customers' expertise to customise the design for their new VSX series of pumps.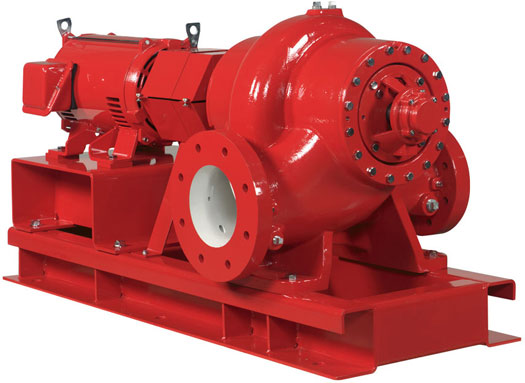 Steve Schmitz at Bell & Gossett said, "The industry experts, our customers, told us what they wanted and we've delivered a unique series of pumps designed to their specifications." The net result of all this consultation is the VSX (Vertical Split-case Excellence) series, offering several HVAC industry firsts as well as great performance and reliability over a wide range of applications. This scale of flexibility means the whole VSX range comprises some 36 discrete models. So let's look at some of these industry firsts:
Multiple suction and discharge flange configurations that maximise piping possibilities and which can reduce the overall equipment footprint by as much as 40%. The VSX range's connection options include the VSC (top suction –top discharge flanges), the VSCS (side suction –top discharge flanges) and the VSH (side suction, side-discharge flanges).
Hydraulic matching of the pump impeller and casing was achieved by using Computational Fluid Dynamics (CFD). The result offers superior performance in, among many others, chillers, cooling towers and distributive pumping.
CFD also allows any one of the three VSX models (VSH, VSC & VSCS) to provide an identical level of hydraulic performance, no matter which orientation of pump flanges you select.
Bell & Gossett is offering a wireless pump monitoring system that allows remote monitoring via the Internet, all day, every day, from any location in the world as a standard. An HVAC industry first.
A built-in generator to power the pump's sensors and data monitor.
A groutless base plate that significantly reduces labour and material costs during installation.
These pumps all include a "Plug-n-Play" capability that allows simple field modifications for mechanical seals, external seal flushing and wireless monitoring.
Of course you can get hold of a full specification from FTJCO, the local exclusive distributor in the UAE, Qatar, Oman, Bahrain and Yemen, but they all include the following:
Flows from 500 - 15,000 GPM
Heads from 30 - 425 feet
Working pressures of 175 and 300 psig
ANSI flange ratings of 125 and 250 lbs
Temperature from 0 to 300 degrees Fahrenheit
Internally self-flushing mechanical seals
ANSI / OSHA coupling guard
Alignment-friendly, variable speed capable coupling
One-piece unitized mechanical seal to simplify servicing
Maintenance-free bearings
The industry has been overwhelmingly positive about the VSX and has acknowledged it as a great range of pumps, versatile, efficient and ergonomically sound. Having end-users contribute so strongly to the design was obviously the way to go.