Al-Jazeera Paints crowned by Occupational Safety and Health Management with OHSAS 18001 certificate
Al-Jazeera Paints, the giant of high quality paints industry in the Middle East and surrounding regions realized a new achievement to be added to its rich lineup of accomplishments by recently obtaining OHSAS 18001:2007 certificate, the health and occupational safety management. This step is considered an affirmation of its industrial efficiency and its safe and healthy environment that supports productivity along with its products comply with the quality, health, environment, security and safety standards as well as social responsibility.

Al-Jazeera Paints won the certificate in the fields of design, manufacturing and delivery yet realizing all operational standards, regulations and procedures which elevate the safety requirements according to international requirements for paints safety.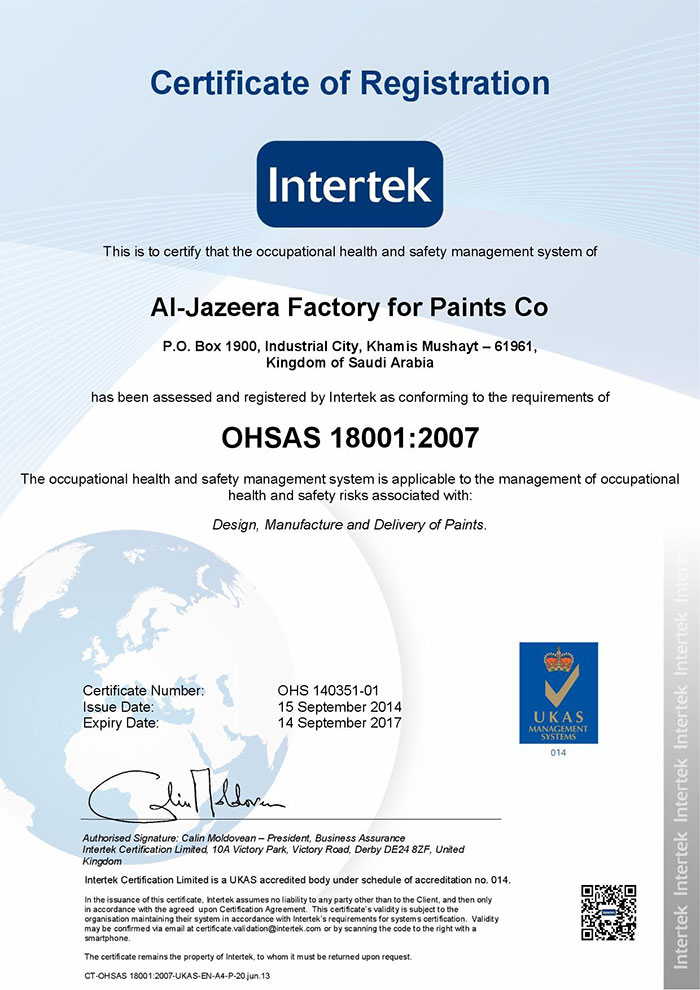 "Obtaining the certificate that covers all these requirements shows the resolve of Al-Jazeera Paints Research & Development center in designing and manufacturing of paints and the utmost attention it pays in selecting raw material that is not dangerous on health of individuals (both employees and clients) and the environment," said Mr. Abdullah Bin Saud Al-Romaih, Al-Jazeera Paints General Manger. He further added that this comes in light of some companies which don't adhere to international laws that forbade many of these raw material as dangerous for the health of workers who have to deal with it directly and impacts consumers and the environment although being cheap and consequently act like a tipping point for those who don't appreciate environmentally responsible paints like Al-Jazeera paints which is keen to environment and society.

He further added that from an industrial prospective, obtaining this certificate entails that the selected raw material by its R & D center constitutes an integral part for workers health during the preparation, mixing and packing process while the company equips its workers with the utmost personal protection means yet adding to their comfort during the manufacturing process. Moreover all the manufacturing process steps are subject to safety regulations including raw material deployment, preparation, manufacturing, packing, transportation, storing and final deployment. He stressed that the obtaining of this certificate from the delivery standpoint proves that the company guarantees that the paint is delivered to the client undamaged starting from deployment from the plant till usage point which are subject to all storing and delivery requirements and conditions that are adhered by the company.

Al-Romaih stressed that this step stems from Al-Jazeera paints humanitarian and national responsibility in preserving people, their health, environment and safety and proves the strict adherence of the company to safety standards and environmental responsibility aspect for the safety of individuals and the whole of society through the adoption of high tech technologies in developing products resulting in no impact on individuals, society and the environment. This comes in line with sustainable green buildings concept implemented in many countries around the world which is a basic requirement for any new real estate and construction project for its many advantages in construction, water preservation, health and environmental protection.

He added that obtaining such an international certificate confirms Al-Jazeera Paint ability to innovate, create and development and embodies the scope of its keenness to preserve the environment, public health, individual safety and society at large along with its adherence to quality which the company took as a slogan. He praised the company Health, Safety and Environment Department, which is composed of national competencies, for their great efforts to obtain this certificate.

The Health and Occupational Safety system management according to the Manager of Health & Safety and Environment Eng. Abdulrahman Al Qahtani includes the increasing of awareness in the principles of public safety inside the workplace, safe handling of material, assurance the prevention of incidents that lead to work injuries, evacuation training in case of emergencies (God Forbids), industrial safety equipment readiness including (alarm systems, fire fighting, evacuation routes and assembly points, …etc.), implementation of visitors protection systems by accompanying individuals to ensure their safety, implementation of civil defense requirements along with other related local systems. It also includes the implementation of NFPA, providing orientation for workers before commencing their work assignments, raising awareness of employees to handle all different kinds of fire extinguishers and their usages, and perform periodic auditing on all the above mentioned in addition to preserving all documents and records related to the system in order to make available for future review and auditing with Higher Authority of the company.

It is worth noting that Al-Jazeera Paints obtained the "Green Seal" certificate for sustainable green buildings and was crowned as the first company outside of America with this international certificate. It also obtained the (ISO 14001) certificate for the Environmental Management along with (ISO 9001) certificate for Quality Management in addition to the Saud Quality Certificate (SASO).

Categories: