Hundreds of professionals get acquainted with air purifier (Al-Jazeera OxyCare) paint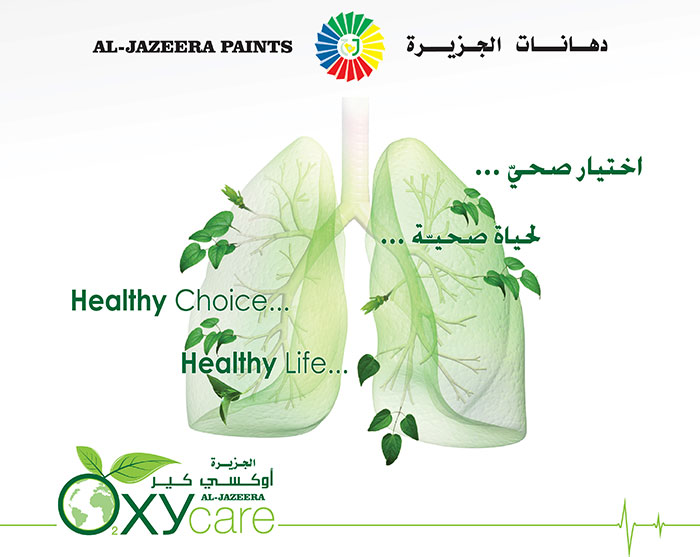 Al-Jazeera paints, the high quality paint industry giant in the Kingdom, the Middle East and surrounding regions organized a number of lectures in Abha, Al Qaseem, Jeazan, Najran and Yunbu' recently which were attended by hundreds of engineers, consultants, contractors and construction stakeholders.

The attendees were acquainted with Al-Jazeera Paints journey which was filled with achievements and successes throughout its developmental stages. They listened to explanations about its rigorous standards which the company followed along with the disciplines that it is keen to in order to quality control its products, find innovative solutions to face the twenty first century challenges and company contributions in the modern construction renaissance of the Kingdom by deploying its products to vital and large projects throughout the Kingdom.

The lectures tackled Al-Jazeera Paints products which provide unique solutions to several challenges yet perform positive roles in regard to its main concern which is the preservation of health and the environment. These lectures explained the role of the company environmentally responsible products in improving the quality of inner air in buildings and providing a healthy environment for inhabitants and paint professionals through the purification of air in the rooms from poisoning Formaldehyde gas with its product (Al-Jazeera OxyCare) and its anti-microbes paints (Anti Microbes AG Ion) which sterilizes rooms from harmful microbes inside operation rooms in hospitals, medical labs and food processing and packaging factories.

The lectures also explained the role of its fire resistant paints (Fire Damp 263) in saving lives, properties and in protecting large projects and premises from collapsing, its easy to clean paints (Al-Jazeera Novel) and their role in keeping the house glamorous and clean from children futility and public places from the consequences of congestion. They also explained about company anti-Carbonation paints (Al-Jazeera Anti-Carbonation) and their role in protecting concrete steal from erosion and hiding imperfections in surfaces along with its role in the prevention of cracks in concrete and the role of road pavement paints such as its product (Al-Jazeera Afraw) along with its floor paints products.

These lectures come as part of a continuous communication program with its clients and stems from company keenness to acquaint them with its environmentally responsible and safe products that are in line with the sustainable green buildings standards and specifications. It also seeks to raise awareness about the importance of utilizing these paint products in all projects in and out of the Kingdom and their adoption by competencies including architects, builders and contractors. Moreover, Al-Jazeera Paints as a national company provides such lectures as part of its corporate social responsibility strategy that is keen to consumer safety yet drawing a bright picture for the environment as a whole and for work places and residencies in particular thus providing a healthy living and working places that encourage productivity.

Categories: