Aldes ME receives AHRI certification for its Pressure Independent VAV boxes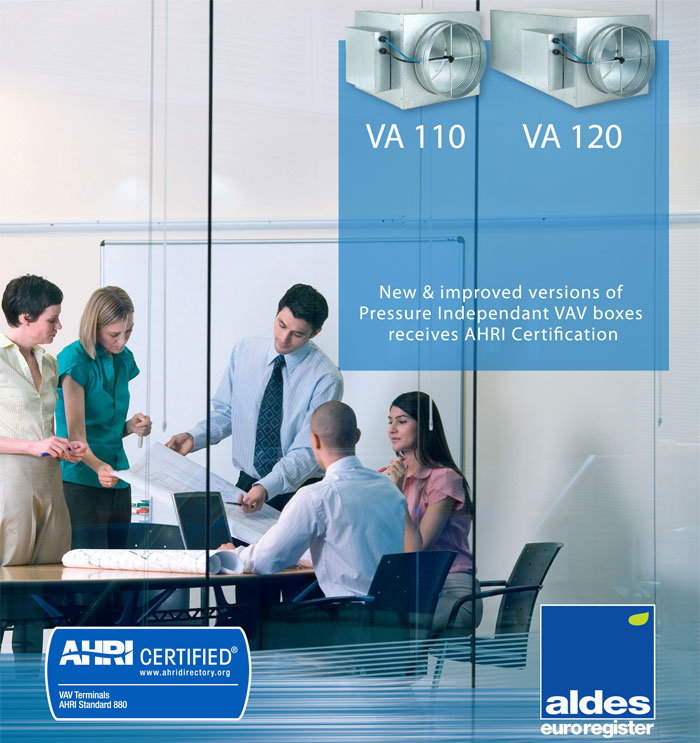 Aldes Middle East (ME), a leading global solutions provider for fire protection, ventilation and air distribution and the local arm of the Aldes Group, has revealed that its Pressure Independent (PI) VAV boxes have received certification from the Air Conditioning, Heating, Refrigeration Institute (AHRI). The certification is a voluntary program that tests and certifies the performance of HVACR and water heating equipment. The company is the only manufacturer to receive AHRI Certifications for both the standard PI VAV version and the extended length PI VAV version.

According to Aldes ME senior executives, the company's PI VAV boxes were redesigned in order to meet the stringent requirements and standards set by the AHRI. The process of certification is administered and governed by AHRI, which ensures that various types of heating, ventilation, air conditioning, refrigeration, and water heating products perform according to manufacturers' published claims. Products that are certified through the AHRI Product Performance Certification Program are continuously tested, at the direction of AHRI, by an independent third-party laboratory, contracted by AHRI, to determine the products conformity to standards or specifications.

"The AHRI certifications that we have received for our PI VAV boxes reflect the world-class, high quality nature of our products," said Gaetan Pierrefeu, Managing Director, Aldes ME. "Our technical know-how of the HVAC industry combined with our products compliance with internationally recognized standards like the AHRI, UL, AMCA and CE, gives our customers the confidence and peace-of-mind that the products they are using are the most reliable solution in the market today."

Aldes ME's PI VAV boxes are available in 10 different inlet sizes starting from 4" up to 16." Specially designed airflow sensor, installed at the inlet of the Aldes PI VAV box, provides extremely accurate measurements ensuring proper control of the airflow as required in the conditioned space. Aldes VAV boxes are compatible to use all leading brands of controls in the industry, like Belimo, Johnson Controls, Honeywell, Neptronics etc. User friendly installation with a choice of Drive & Slip (standard) or flanged duct connection (optional) at the outlet makes the life of the installer easier.

Categories: