The King Abdulaziz International Airport Project
King Abdulaziz International Airport (KAIA) is an aviation facility located 19 km to the north of Jeddah.

The new KAIA project in Jeddah will include a twin crescent-shaped 670,000 sqm passenger terminal complex, 46 contact gates, 94 boarding bridges, including double deck A380 access, lounges, an airside hotel and catering and retail facilities.

The project's masterplan includes development in three phases to 2035, with phase 1 expected to increase the airport's capacity from 13 to 30 million annual passengers. When fully complete, the airport's final capacity is slated to reach up to 80 million passengers per year.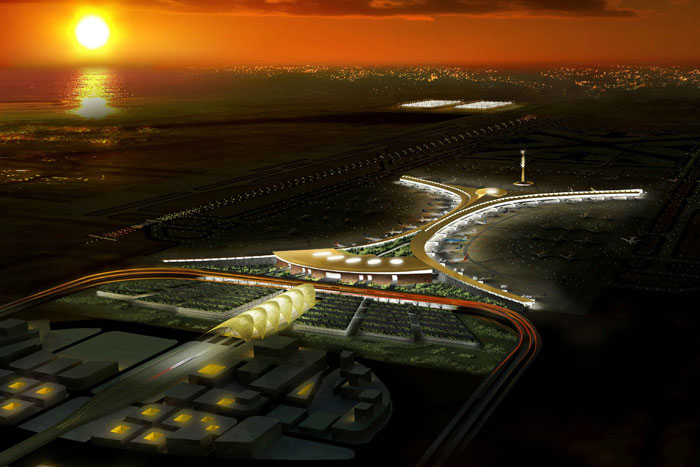 Aldes ME has been working on the KAIA project since 2012. Aldes ME began from the design stage, strongly supporting the consultants (Atkins and Dar Al Handasah) and is currently in the execution stage with the key contractor (Advanced Vision).

There were a lot of specific and unique requirements for this project. Additionally there were extremely large product volumes required and tough delivery schedules which created some very interesting challenges for the Aldes team. To ensure a fast and efficient response time, Aldes ME has cemented its KSA presence with a local distributor (MIMAR) and Aldes business development and sales force personnel.

Aldes ME received approval for several products namely Bar Grilles, Registers, Square and Slot Diffusers and Sound Attenuators. The Sound Attenuators were designed by Aldes to achieve several specific Noise criteria in the airport. The selection was completed in-house at Aldes ME through the internal certified software and has third party approval for performance.

First phase of the project was divided in zones. Some of zones are completed now and are ready to operate and some of zones are still under execution. A long story is still ahead: as it is only first phase of the project.

Many thanks to the entire Aldes ME team particularly our KSA team. Well done!

Categories: