Arlene Foster, Enterprise Minister from Northern Ireland, visits FG Wilson facility in JAFZA.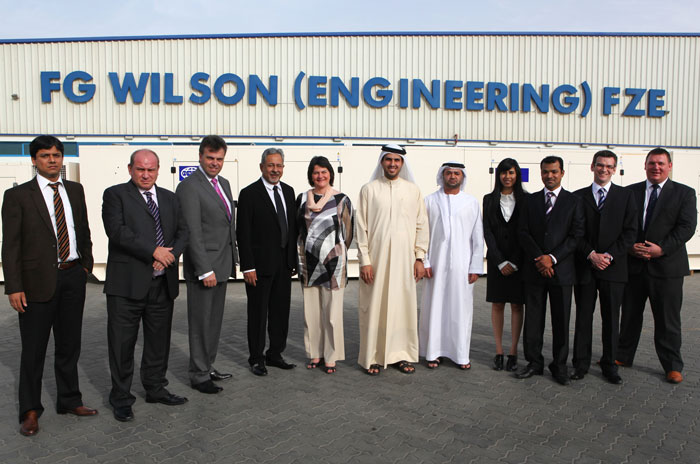 In line with the long-standing regional leadership of the FG Wilson brand, senior members of Northern Ireland's department of Enterprise, Trade and Investment recently visited FG Wilson (Engineering) FZE Facility located at the Jebel Ali Free Zone (JAFZA).
Northern Ireland's Enterprise, Trade & Investment Minister, Arlene Foster, led the delegation and was accompanied by Mr. Alastair Hamilton, CEO, Invest Northern Ireland and Mr. Guy Warrington, HM Consul General, British Embassy Dubai. Also present were Mr. Adil Al Zarooni, Sr. Vice President EZW-Global Sales.
FG Wilson (Engineering) FZE has provided power generation solutions all over the Middle East, with a focus on unparalleled engineering excellence. From its strategic location in JAFZA, FG Wilson (Engineering) FZE has been able to grow into an industry leader in the field of power generation throughout the Middle East.
During the visit, the delegation received a presentation by members of the Dubai and Belfast - FG Wilson teams as well as a tour of the 160,000 sq. ft., state-of-the-art facility located in JAFZA.
Enterprise Minister Arlene Foster said: "I am delighted to see the level of commitment from FG Wilson FZE towards the brand and to its customers. The facility is very impressive, as is the substantial growth they have been able to achieve and sustain. The level of commitment in terms of stocking, training and support has fostered the FG Wilson brand throughout the region."
The FG Wilson brand of generators, a global leader in power generation solutions, is manufactured at the Northern Ireland based FG Wilson Engineering Ltd, a fully owned subsidiary of Caterpillar Inc., USA. Today, FG Wilson is the largest generating set manufacturer in the UK, and one of the largest in the world, with a global distribution network.
Alok Rawat, President of FG Wilson (Engineering) FZE said "It has been our privilege to host the Minister and the delegation. We have played an active role in the growth of the FG Wilson brand in the region, and we are committed to further strengthening the brand image. We thank the Minister and the delegation for visiting our facility."
Commenting on the growth of the FG Wilson brand, Roger Kennedy, Middle East area sales manager of FG Wilson (Engineering) Ltd., said, "FG Wilson (Engineering) FZE has shown unprecedented commitment to growth and to the FG Wilson brand. In addition to their progress in the Middle East, they have established a strong presence in traditionally complex markets such as Iraq and Afghanistan. We will continue to focus on our global wealth of expertise to the Middle Eastern markets and further enhance the brand visibility."