Avanti Systems Eclipse Cloud Assisted Close
Eclipse Cloud premium sliding glass doors are the newest innovation in modern entryway design. This system goes beyond our standard sliding doors, where precision, technology and design meet.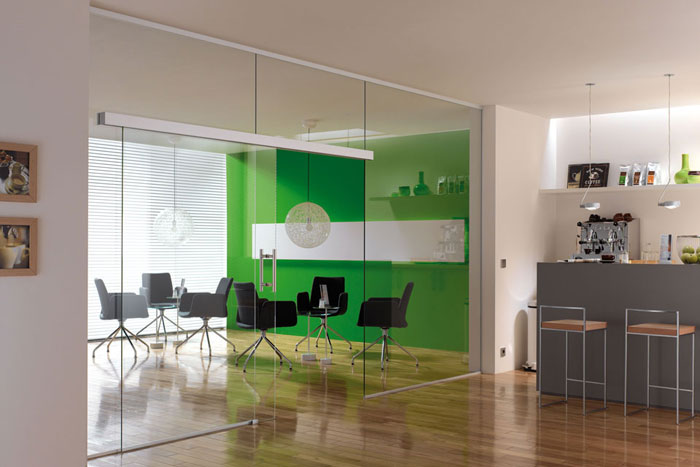 Key Features
Patented Comfort Stop, Auto Close and Exact Trigger technologies
Minimal maintenance
Ceiling, glass and soffit face mount
Fixed panel integration within one track
Glass Options
3/8" (9.5 mm) Clear tempered
3/8" (9.5 mm) Laminated glass
1/2" (13 mm) Clear tempered
9/16" (14 mm) Laminated glass
Laminated LCD privacy glazing
Wall Integrations
Single Glazed
Double Glazed
Freestanding
Hardware & Fittings
Aluminum and stainless steel
Gigante Lower Handle and Locking Mechanism
Custom assemblies upon request
Custom finishes
Polycarbonate internal parts
Setting New Standards in Interior Sliding Glass Doors
Avanti Systems USA presents Eclipse Cloud™, the latest innovation in interior sliding glass doors and the premium choice for modern interior office design. Eclipse Cloud™ comes standard with sophisticated patented features such as Comfort Stop, Auto Close and Exact Trigger technologies. Considered the next step in interior sliding glass doors, Eclipse Cloud™ delivers cutting edge technical precision and beauty.
Auto Close
Eclipse Cloud™ Auto Close feature is a semi-automatic closing system that fully closes the sliding glass doors after it has been slowed down by the Comfort Stop mechanism.
Comfort Stop
Designed with safety in mind, Comfort stop technology ensures that doors will slowly and safely close irrespective of its weight and speed of closure.
Exact Trigger
Built to last the test of time, Eclipse Cloud Exact Trigger guarantees that the activator catch always functions properly maintaining optimal functionality.
Download Specification and Details