Solare Double Glazed Soundproof Walls
Solare double glazed walls are an outstanding alternative to solid glass walls. They deliver a 44 Rw (db) acoustic rating and allow for optional blinds.

Key Features
Full height up to 15 feet installation
Dry jointed glazed installation (no adhesives)
Fully demountable
Mullion free
Curved applications available
Polyester powder coated finish (RAL color choices)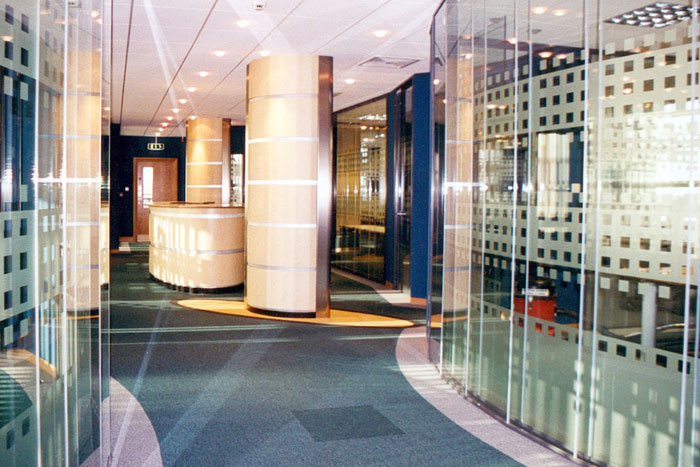 Advanced Privacy and Superb Acoustic Performance
Acoustic performance and elegance. Solare Double Glazed glass wall systems have the option of privacy glass panels when frosted, used with LCD glass or when blinds are installed within the double glazed walls. This glass wall system is perfect for interior offices, conference and meeting rooms and atrium's.
| Technical Feature | Description |
| --- | --- |
| Head & Sill: | Extruded 1"x 4" Aluminum channel |
| Channel seal: | Rubber flap seal |
| Fire resistance: | BS476 Part 22 ( British standards) |
| Fire rating: | 30 Min Rating (30/30 per British Standard BS476 Part 22) with Fire rated glazing |
| Vertical Wall channel: | Extruded 1"x 4" (25mm x 100mm) aluminum channel |
| Vertical & Horizontal Glass joints: | 7/8" (22mm) Crystal Clear PVC joint seals |
| 90 & 135 degree Corner joints: | Crystal Clear PVC joint seals; size varies on application |
| Slimline door frame: | 2 1/2" x 2 1/4" (63cm x 57cm) Extruded aluminum door frame |
| Acoustic Rating - STC: | 44 dB (Rw) |
| Structural stability: | Meets BS5234 (partition) and BS6180 (protective barrier) British standards |
Glass Options
3/8" Clear tempered
7/16" Clear laminated
1/2" Clear tempered
9/16" Clear laminated
Laminated LCD privacy glazing available
Up to 3/4" Glazing is available
Door Integrations
Frameless pivot glass doors
Premium sliding glass doors
Pocket sliding doors
Timber doors
Single glazed (Acoustic) doors
Double glazed (Acoustic) doors
Hardware & Fittings
Aluminum and stainless steel
Custom assemblies upon request
Custom finishes