Breeze Park Homes Live On The Water With Penetron Protection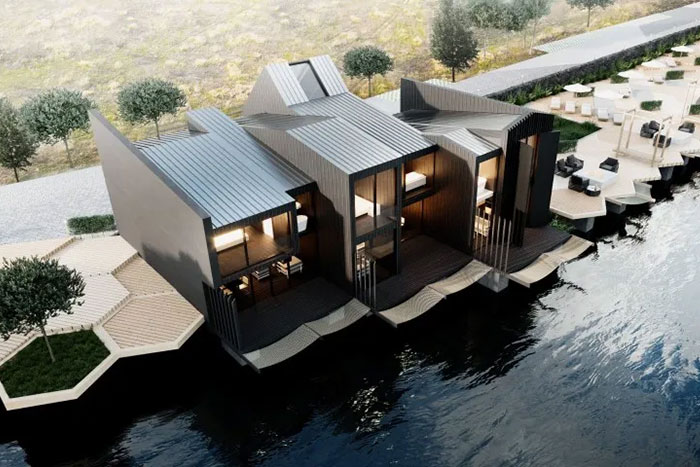 The Breeze Park townhouses straddle the shoreline of a lake. The supporting columns, foundation slabs, and concrete drinking water storage tanks were treated with PENETRON ADMIX.
The first luxury townhouses of the Breeze Park development in the metropolitan area of Chelyabinsk, Russia opened their doors in June 2021. The project takes lakeside living to a new level – with units built over the water – thanks to the Penetron System.

The Breeze Park development of lakeside townhouses is about 22 km (14 miles) from Chelyabinsk, on the eastern side of the Ural Mountains, which are part of the border between Europe and Asia. With about 1.4 million inhabitants, Chelyabinsk is the second largest city in the Urals region (after Yekaterinburg) and an important industrial center.

Bordered by forests of coniferous and birch trees, the 45 luxury townhouses of Breeze Park are built directly along the shoreline of a private lake (artificial quarry). Arranged in nine free-standing blocks of 3-5 units each, 42 units are situated partially over the waters of the lake. Available as 1- to 3-bedroom units, they range in size from 68-128 m2 (750-1,400 ft2). The development also features common areas with lounge decks and grilling areas.

The initial block of three units, completed in June 2021, will be followed by the completion of the remaining eight blocks by Summer 2022.

Careful Consideration Of Building Materials
"The Breeze Park townhouses are built virtually over the water," explains Evgeniy Veynberg, Director of TORI Company, the local Penetron distributor for the Chelyabinsk region. "That's why the project developers at Development Pro paid special attention to the quality of the building materials – and the choice of a durable waterproofing solution."
The TORI specialists recommended the Penetron System for the Breeze Park townhouses. This consisted of PENETRON ADMIX, which was added to the concrete mix for construction of the concrete columns supporting the units' structures overhanging the water, the foundation slabs, and the concrete drinking water storage tanks. PENEBAR SW-45A, a swellable waterstop, was used to seal the resulting construction joints. PENECRETE MORTAR was applied topically as a repair grout for any cracks larger than 0.5mm (1/51") that appeared in the concrete columns.
Looking For Maximum Durability
"For our Breeze Park project, we applied the world's best technologies for building houses in harsh wet environments. We chose Penetron, a leader in concrete waterproofing materials, to ensure the durability of concrete in constant contact with water. We want to be sure our houses will last for decades," says Vakhtang Chikaberidze, Managing Partner, Development Pro, the project developer.
Penetron waterproofing products are formulated to react with key concrete components to produce an integral crystalline formation that lasts for the life of the concrete. Once treated, the concrete matrix shows vastly enhanced impermeability to moisture, and self-healing capabilities.
"Once you prevent water and waterborne chemicals from penetrating concrete, the life span and durability of the concrete matrix is significantly increased," adds Evgeniy Veynberg. "As tests have shown, the service life of PENETRON ADMIX-treated concrete is about three times longer than conventional concrete."
#penetron #waterproofing #concreterepair
Categories: