Calce Grigio and Filo Argenti for the Business Lounge of Platov Aiport in Rostov-On-Don, Russia
LAMINAM, a specialist in the production of large ceramic slabs with minimum thickness for interiors, architecture, and furnishing, can boast several important international references and numerous significant projects: the flooring of the business lounge of Platov international airport is just one of the most recent.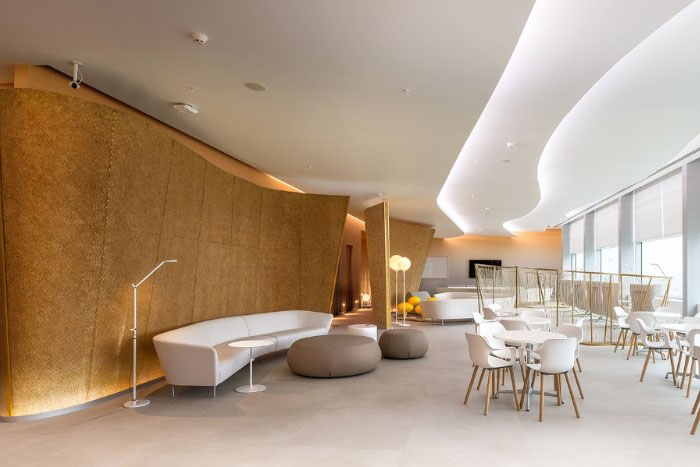 The new Platov international airport in Rostov-on-Don covers a total surface of 50,000 square metres and is a key transport hub as a result of its strategic position. The business lounge with its expansive glazing overlooking the charming landscape of the Rostov countryside is arguably one of the most interesting areas of the airport from the architectural standpoint.

Vox Architects designed the project and created interiors aimed at preserving and enhancing the natural panorama surrounding the airport. Furniture is placed to secure unlimited views. The natural theme is picked up in the choice of cork and porcelain stoneware as materials. The business lounge owes its name "Sun on Don" to a unique reception area which appears as a bright artistic creation that evokes the sun shining over the impressive river Don. The lounge features sofas and armchairs, private seating arrangements, a relax area, a refreshments area and an area for children. Maximum capacity is approximately 65 guests.

The furniture, like the cladding and flooring materials, was carefully chosen to satisfy high needs in terms of resistance, durability, fireproofing and acoustic comfort. With these requirements in mind, Vox Architects chose for the business lounge floors the Laminam ceramic slabs in the 1000x3000mm size in the 5,6mm thickness in the Calce Grigio colour, and for the restroom wall cladding and the doors the Filo Argento colour.

Properties of the Laminam slabs:

Resistant to scratches and deep abrasion
Resistant to mildew and fungi
Resistant to stains
Resistant to chemicals
Resistant to heat and fire
Resistant to UV rays
Intrinsically hygienic
Low maintenance and easy cleaning
Easy processing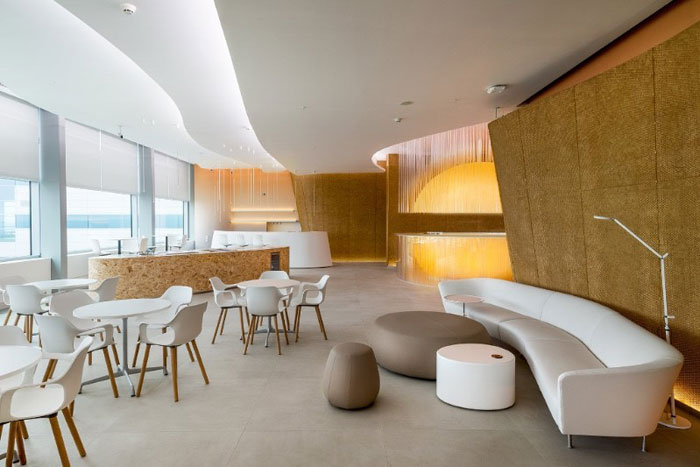 CALCE
Soft tone colours and delicate nuances inspired by wet plaster and industrial concrete. Soft materials with a strong contemporary spirit, icons of sophisticated design.
Available sizes: 1000x3000mm, 1620x3240mm

Thickness: 3 mm, 5.6 mm, 12 mm

Colours: Antracite, Avorio, Bianco, Grigio, Nero, Tortora

2018
Business Class Lounge – Platov Airport, Rostov on Don, Russia
Design: VOX Architects

Trade company: MADE

Floors: Calce, Grigio

1000x3000mm - Laminam 5,6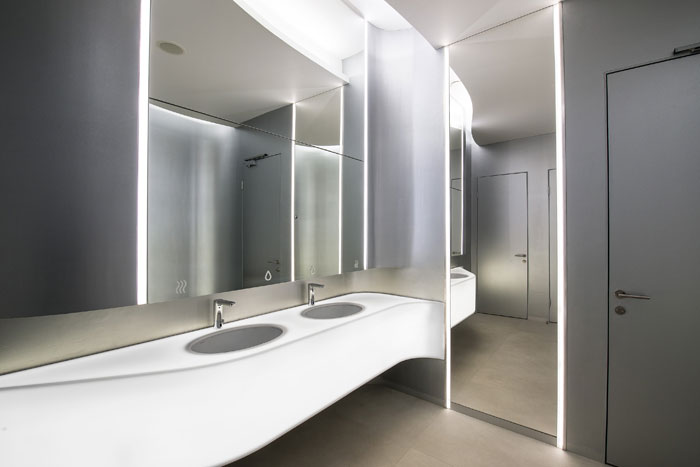 FILO
Technology and material-stylistic research converge to create a stunning texture inspired by the image of an endlessly recurring iridescent thread, interwoven so that it blends seamlessly into a metallic fabric. The visual and tactile effect of Filo confuses and surprises with a stunningly attractive play of lights.
Available sizes: 1000x3000mm

Thickness: 3 mm

Colours: Argento, Brina, Ghisa, Mercurio, Oro, Pece, Rame, Rubino

2018
Business Class Lounge – Platov Airport, Rostov on Don, Russia
Design: VOX Architects

Trade company: MADE

Walls and doors: Filo, Argento

1000x3000mm - Laminam 3+