Laminam slabs in Philippe Starck's project for the South Beach Hotel in Singapore
The main features of great value of the Laminam surfaces, which on the one hand are hygienic, easy to clean, resistant to the onset of mould and mildew, heat, wear and scratches, as wells as the maintenance of their colour over time, make them suitable for the most delicate environments that need a particular attention to hygiene such as pools, spas or Turkish baths.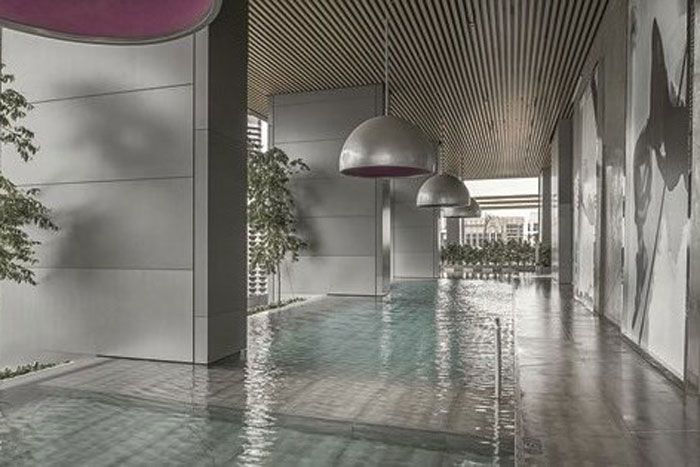 Among the most recent projects, LAMINAM was chosen for the coverings of the Infinity pool on the 18th floor of the South Beach Hotel in Singapore.

The hotel opened in 2015 owes its prestige to two internationally renown architects, Norman Foster (Foster + Partners) who signs the architectural project of the complex and Philippe Starck who designed the interiors.

The South Beach consists of four buildings with 23 floors in the city center, creating a real sustainable urban neighborhood that coherently fits in the idea of Singapore as a "city in a garden."
A distinctive feature of the project is to create numerous common areas: 43 Imaginative Social Spaces transforming the hotel from a place of passage to a real experience to be lived.

One of these is precisely located on the 18th floor of the South Tower which houses the special infinity pool designed by Philippe Starck, an environment of well-being that arouses emotions to be lived and shared conceived as an open window on the city.

The infinity pool ambience that is a privileged point from which it's possible to enjoy a breathtaking panoramic view is covered with LAMINAM slabs of Oxide collection, Grigio colour with a thickness of 3+mm. Cut into apparently irregular geometric portions and perfectly combined in a sort of modern mosaic, the slabs create a new and refined optical illusion, an effect of oxidised metal which reacts to the sunlight. The material and chromatic depths help create new refined 3D effects for a total look in designing interiors and exteriors.
Categories:
09 30 00 - Tiling