Comfort and Safety in All Phases of Life
Ageing brings a number of changes. Reduced mobility and seemingly simple movements become increasingly difficult. Even daily activities such as taking a shower or a bath can pose a real challenge. As vital as a refreshing shower or a relaxing bath are for physical and mental wellbeing, wet floors and insufficient grab bars can be dangerous. But solutions and aids are also available for the bathroom. Walk-in showers enable barrier-free access. Slip-resistant floors and grab handles for support when getting in and out of the shower provide additional stability.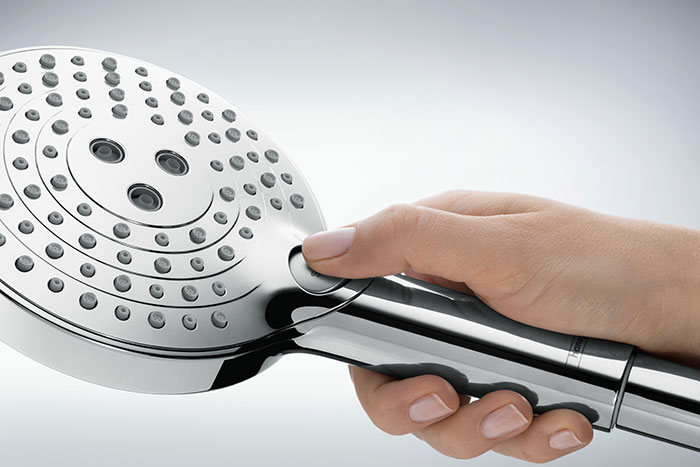 Comfort and Safety in the Bathroom
hansgrohe Unica Comfort shower bars provide both safety and convenience. The shower bars can be used as sturdy grab bars in the shower. They are TÜV-certified for safety and significantly reduce the risk of falling in showers and bathtubs. The sturdy, chrome-plated shower bars are 25 mm thick and strong enough to securely support up to 200 kilograms of weight. Different versions of the 1.10-metre shower bar are available for vertical and horizontal installation. The shower bars are complemented by customised and detachable shower caddies for toiletries and a matching footrest with a non-slip surface which provides stability when caring for feet and legs.
Switch Spray Modes at the Touch of a Button
The hansgrohe RainSelect range also brings the easy-to-use Select button feature to the bath and shower. Users can select the desired spray by simply tapping the easy-to-read paddles in the same way they would use a light switch. Water temperature and volume are set by turning the two generously-sized dials. These easy and comfortable controls make it possible to enjoy a relaxing shower experience without the hassle of having to deal with complicated bathroom technology. The controls can be used with wet or soapy hands and a minimum of effort. Besides, the prominent paddles can be of great help even to children and younger people.
Intuitive Operation for More Fun at the Washbasin
We use the washbasin many times a day in our personal everyday life. Ease of use is a key factor here as well. The washbasin should be barrier free and accessible for people in wheelchairs. The mixer is the centrepiece of every washbasin. hansgrohe mixers equipped with Select technology make operation intuitive and convenient and provide pleasure at the push of a button. In addition, hansgrohe manufactures taps in different heights. That means that the tap can be individually adapted to the washbasin – for more comfort, flexibility and ease of use.