About HDPE Pressure Pipes & Fittings
HDPE Pressure Pipes & Fittings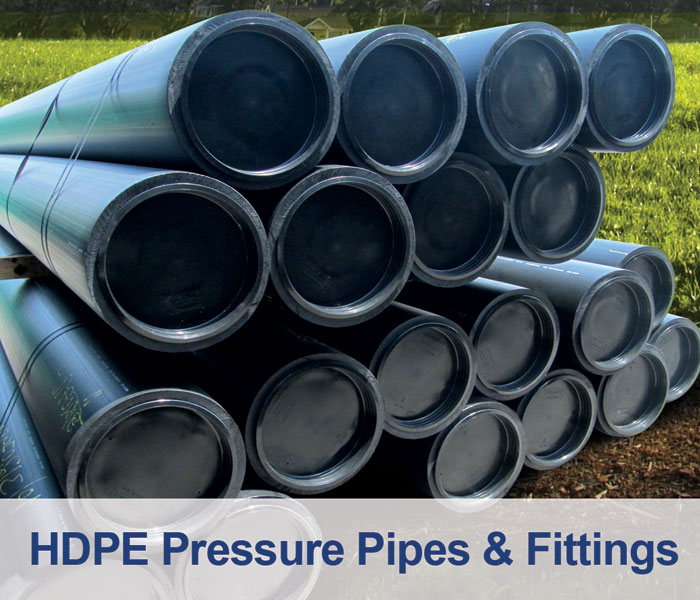 Cosmoplast is the largest thermoplastic pipe manufacturer in the GCC region with production facilities spread across Sharjah, Dubai and Abu Dhabi in UAE, Riyadh in Saudi Arabia and Moscow in Russia.
Cosmoplast HDPE/MDPE Pipes & fittings for water and gas are recognized in the industry for its zero leak rate, high performance, and long life expectancy. These unique features make Cosmoplast Polyethylene pipes & fittings the best option for various applications like:

Municipal & Industrial water transmission systems.
Potable water & Gas service or distribution lines.
Sewer piping systems.
Pipeline Rehabilitation.
Slip Lining.
Horizontal and directional Drilling.
Geo-Thermal applications.
Mining applications.
Rehabilitation of old pipelines.
Electrical Ducting.
Natural Gas Distribution.
Irrigation and Landscaping.
Liners and Jackets for District Cooling.
Cosmoplast polyethylene pipes are manufactured in sizes from 20mm – 1400mm, to various international standards like:

ISO 4427 – 2 : 2007(E)
ISO 4437 : 2007(E) for Gas
BS EN 12201 : 2 : 2003
Cosmoplast's on going research and development programs continue to add new products to its pipeline system product range. Cosmoplast plumbing systems include PVC and HDPE pipes and fittings for drainage and sewerage, PPR and PEX pipes for hot and cold water distribution, pipe clamps and hangers, solvent cement and lubricants.
In addition this, Cosmoplast manufactures HDPE and GRP pipes and fittings, PVC and GRP manholes to cater to an extensive range of infrastructure development applications , pre-insulated pipes and fittings for the district cooling industry, LDPE pipes for irrigation lines, PVC wellcasing and screens for water extraction.

22 00 00 - Plumbing
22 10 00 - Plumbing Piping