About uPVC Drainage Pipes & Fittings
uPVC Drainage Pipes & Fittings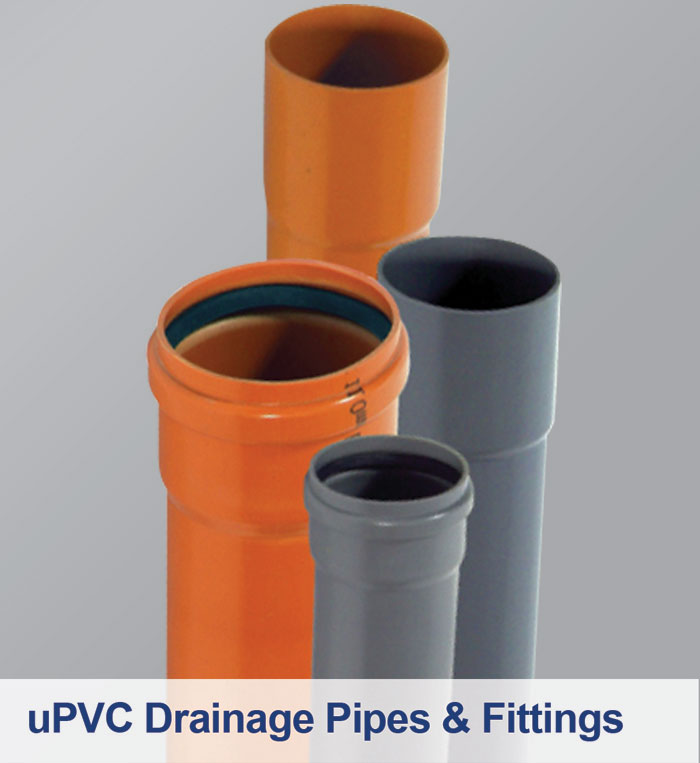 Cosmoplast is the largest thermoplastic pipe manufacturer in the GCC region with production facilities spread across Sharjah, Dubai and Abu Dhabi in UAE, Riyadh in Saudi Arabia and Moscow in Russia.
With a wide range of uPVC drainage pipes and fittings covering a size range from 32mm up to 1,000mm, Cosmoplast offers complete solution for our customer's piping needs. Our range of uPVC systems offers comprehensive solutions required to complete any domestic or industrial drainage system. Cosmoplast drainage pipes and fittings are manufactured with both solvent welding sockets and rubber ring (Push Fit) sockets, which satisfies the various requirements of projects, designers and installers.
All our uPVC drainage pipes & fittings are manufactured and tested in accordance with the new British – European standards and awarded with BS Quality Kite Mark.
Cosmoplast's on-going research and development programs continue to add new products to its pipeline system product range. Cosmoplast plumbing systems include PVC and HDPE pipes and fittings for drainage and sewerage, PPR and PEX pipes for hot and cold water distribution, pipe clamps and hangers, solvent cement and lubricants.
In addition this, Cosmoplast manufactures HDPE and GRP pipes and fittings, PVC and GRP manholes to cater to an extensive range of infrastructure development applications , pre-insulated pipes and fittings for the district cooling industry, LDPE pipes for irrigation lines, PVC wellcasing and screens for water extraction.

22 00 00 - Plumbing
22 10 00 - Plumbing Piping