About PVC Pressure Pipes & Fittings
PVC Pressure Pipes & Fittings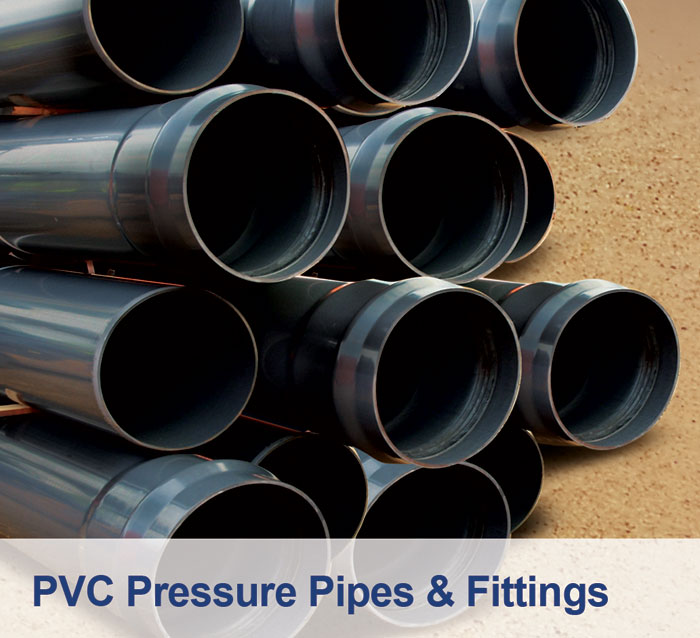 Cosmoplast is the largest thermoplastic pipe manufacturer in the GCC region with production facilities spread across Sharjah, Dubai and Abu Dhabi in UAE, Riyadh in Saudi Arabia and Moscow in Russia.
Cosmoplast High Pressure uPVC pipes & fittings are widely used in:

Pressurized water distribution networks.
Underground water distribution networks.
Underground drainage networks.
Drainage Installations between manholes.
Irrigation networks.
Transport of wide range of fluids in the industry.
Cosmoplast manufacture sizes upto 1200mm in accordance with the following standards:

BSEN 1452 – 2 : 2009 Plastic piping systems for water supply – (PVC-U).
DIN 8062 : 2009 Unplasticised polyvinyl chloride (PVC-U) pipes; dimensions.
DIN 8061 : 2009 Unplasticised polyvinyl pipes - General quality requirement & testing.
DIN 8063 : 2009 Pipe joints and pipe fittings for pipes under pressure made of PVC.
Cosmoplast's on going research and development programs continue to add new products to its pipeline system product range. Cosmoplast plumbing systems include PVC and HDPE pipes and fittings for drainage and sewerage, PPR and PEX pipes for hot and cold water distribution, pipe clamps and hangers, solvent cement and lubricants.
In addition this, Cosmoplast manufactures HDPE and GRP pipes and fittings, PVC and GRP manholes to cater to an extensive range of infrastructure development applications , pre-insulated pipes and fittings for the district cooling industry, LDPE pipes for irrigation lines, PVC wellcasing and screens for water extraction.

22 00 00 - Plumbing
22 10 00 - Plumbing Piping