Criocabin Generation R-290 - goes light on the environment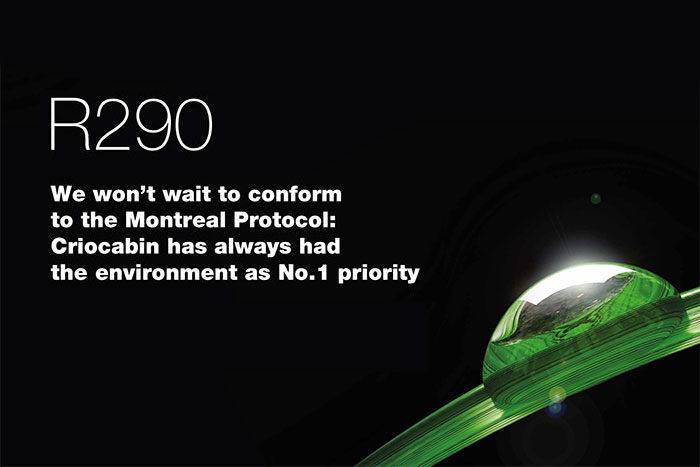 Concerns over the environmental issues, like global warming, is driving governments to create new rules applicable to the gas emissions. Over the next few years remarkable measures are foreseen to reduce progressively their use.

Synthetic refrigerants HCFC and HFC, such as the so-called "green" refrigerants - R410A, R407C, R404A – the latter, introduced onto the market as part of the Montreal Protocol, affect significantly on the greenhouse effect.

Several actions have been scheduled with the aim of reducing the rise in global average temperature to no more than 2°C (preferably 1.5°C) above pre-industrial levels.

It's about GWP (Global Warming Protection) as indicative value for grading greenhouse gases.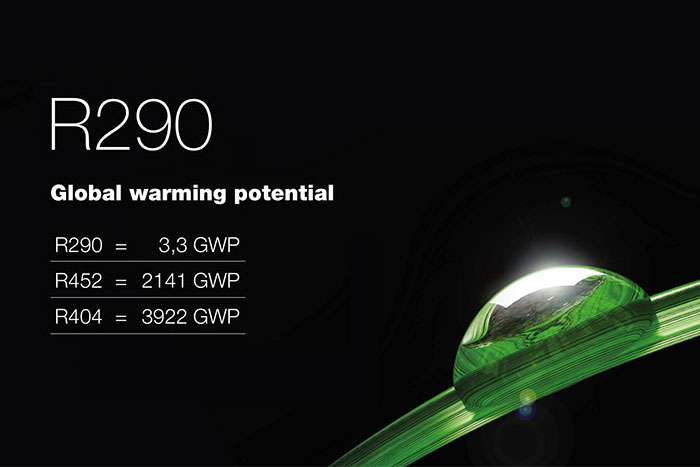 In our field, The European Union Regulation shows the following schedule:

Refrigerators for Commercial purposes:
HFC with GWP≥ 2500: up to Jan. 1st 2020

Refrigerators for Commercial purposes:
HFC with GWP≥ 150: up to Jan. 1st 2022

New product ranges are being introduced to carry out with regulation, but right now, the actual "green" choice to the various gas is R-290 showing a GWP equal to 3,3.
CRIOCABIN CHOOSE RIGHT NOW TO COMPLY WITH THE MOST RESTRICTED REGULATIONS SET OUT BY THE MONTREAL PROTOCOL
A recent report from Emerson Climate Technologies, analyse the difference in uses of R290 as refrigerant in Europe versus USA.
Europe is constantly evolving the use of equipment based on R290 and it will take over an increasingly important role.
Environmental and energy efficiency drive R-290 adoption in the E.U.
In the report, it's said that the EU holds a leader role when it comes to implement policies on products environmentally sustainable.
EU Gas Regulations have been among the first worldwide to progressively reduce hydrofluorocarbons refrigerants (HFC) is support of natural alternatives with low global warming potential (GWP). It comes as no surprise, hence, that Europe has opened the way for the adoption of natural refrigerants in the commercial refrigeration.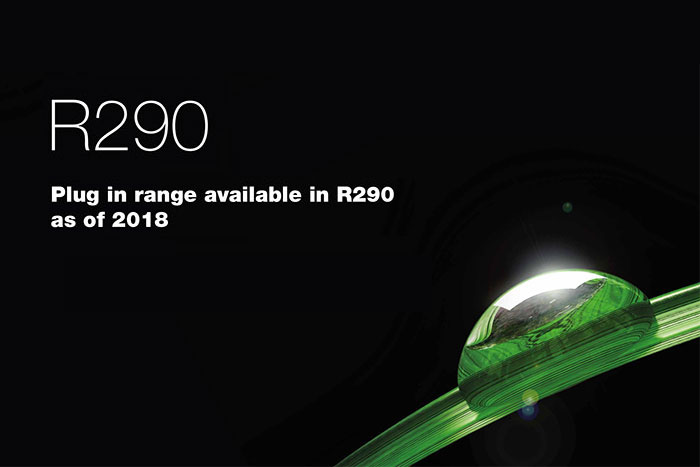 From an environmental perspective, R-290 is among an elite class of viable green alternatives to many of the industry's most common high-GWP refrigerants. It's a naturally occurring hydrocarbon (HC) with a GWP of 3 and 0 ozone depletion potential (ODP). R-290 is a highly refined grade of the fossil fuel propane, it's flammable, non-toxic in nature but above all, it has thermodynamic properties higher than the ongoing HFC refrigerants in terms of energy-efficiency.
For years now CRIOCABIN have been committed to the development of refrigeration equipment specifically with R290, in compliance with the terms listed by the Montreal Protocol. By June 2018 all our refrigerating units with built-in refrigeration groups will be working with R290.
To achieve this ambitious target, CRIOCABIN has done large investments on new Certified Testing Rooms, upgrading and retrofitting of the production lines that are now well-equipped to safely manufacture refrigerated display counters with R290.
Technological avant-garde, environmentally friendly, energy saving along with iconic and unique design are the strengths of CRIOCABIN.
Categories: