Current Transformer Terminal Blocks Added to WAGO's Rail-Mount Terminal Block Line.
WAGO expands its TOPJOB® S range to include rail-mount terminal blocks for simple measurement in current transformer circuits and for automatic short-circuiting of transformers.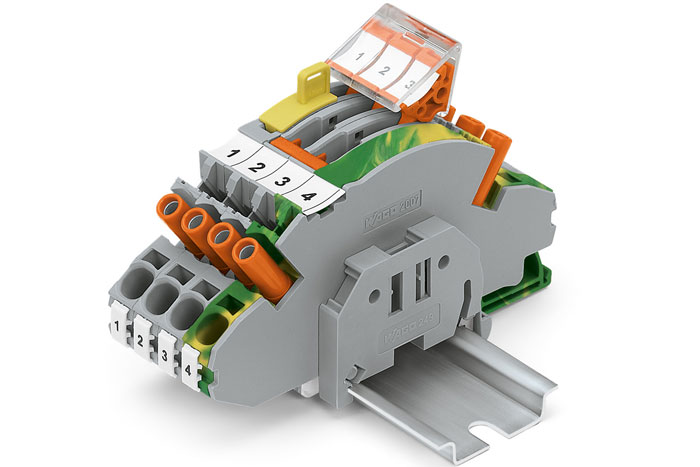 The new 2007 Series Disconnect/Test Terminal Blocks are specially designed for use in current and voltage transformer circuits. They feature a highly functional design and are just 99.6 mm long and 8.0 mm wide. Intuitive orange disconnect links simplify operation: Closing the link automatically short circuits the transformer via inserted adjacent jumper for switch lever.
The circuit state can be easily, safely and reliably determined via open, touch-protected design. The 2007 Series also includes through and ground terminal blocks with identical profiles. All of the terminal blocks are designed for 30 A and 500 V based on IEC and 300 V based on UL. The maximum nominal cross section for ferruled conductors is 6 mm² (AWG 10) and 10 mm² (AWG 8) for solid and fine-stranded conductors.
"The TOPJOB® S current transformer terminal blocks combine an extremely compact design with a high level of functionality, such as automatic transformer short-circuiting," declares Burkhard Niemann, Product Manager for ELECTRICAL INTERCONNECTIONS at WAGO Kontakttechnik GmbH & Co. KG.
The TOPJOB® S Rail-Mount Terminal Block System
Covering a range of wire sizes from 0.14 mm² to 95 mm² (AWG 24-4/0), TOPJOB® S, along with POWER CAGE CLAMP, is the rail-mount terminal block system that offers the widest range of products for industry, buildings and traffic applications. Thanks to CAGE CLAMP®S technology, the TOPJOB® S DIN-rail mount terminal blocks are the industry's most compact.
These terminal blocks are suitable for all types of conductors; solid, stranded and fine-stranded conductors with ferrules can also be connected simply by pushing them in. The TOPJOB® S rail-mount terminal block system is rounded out by the fastest and most economical marking system and by a comprehensive jumper system for any conceivable application.
Disconnect/test terminal blocks for current and voltage transformer circuits join the range of TOPJOB® S rail-mount terminal blocks.