Debut 'Wire and Cable Arabia' 2015 exhibition opens at Dubai International Convention and Exhibition Centre
The inaugural edition of the international trade fair for the wire and cable industry 'Wire and Cable Arabia 2015' opened at the Dubai International Convention and Exhibition Centre (DICEC).

The four-day event, which was inaugurated by HE Saeed Mohammed Al Tayer, MD & CEO of Dubai Electricity and Water Authority (DEWA), will continue until 13 January 2015.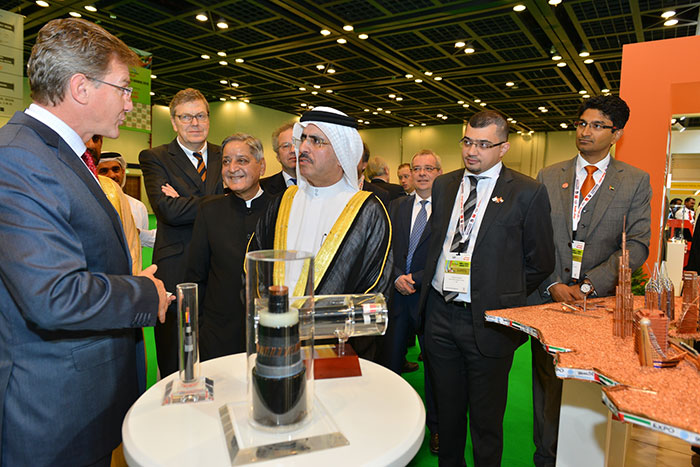 HE Al Tayer said that there is a diversity of products and solutions displayed at the show which depicts the growth of the industrial sectors in the UAE. We felt the presence of international companies from China, India, Eastern Asia and other countries in the first edition of the show which shows its potential growth in the forthcoming editions."

According to Al Fajer Information and Services, organisers of 'Wire and Cable Arabia 2015', power infrastructure is a major driver of the industry's growth, as developing economies continue to expand power infrastructure, while developed economies are replacing aging power infrastructure.

"Cables and wires form the infrastructure backbone of any economy and critical elements that wire up the length and breadth of the country, including telecom and power networks," said Satish Khanna, General Manager, Al Fajer Information and Services, organisers of the show.

Supported by Ducab as Principle Sponsor, the inaugural edition of 'Wire and Cable Arabia 2015' serves as a meeting point for decision makers connected with infrastructure requirements of industrial and residential projects in the GCC.

The boom in construction activity has been boosting the demand for energy cables used in residential, commercial and industrial construction, as well as in the expansion of utility networks.

'Wire and Cable Arabia 2015' is showcasing coaxial cables, communications cables, direct-buried cables, flexible cables, heliax cables, non-metallic sheathed cables, metallic sheathed cable, multicore cables, paired cables, ribbon cables, shielded cables, submersible cables, twinax cables, plus many other types of wires.

Key exhibitors at 'Wire and Cable Arabia 2015' include Ducab, Ajex & Turner Wire Dies Co, Assomac Machines Ltd, Bergamdi Machinery, BLS Polymers Ltd, Flymca & Flyro, FSP-one, International Copper Association, Jangsu Qunye Electrical Co, Kablo Tel Dunyasi Dergisi, Kalpena Industries Ltd, Kund Kund Polymers / SCJ Plastics, Nantong Huaxing Steel Wire Products Co., Nantong Siber Communication Co, Pamica Electric Material (Hubei), QED Wire Lines Inc, Scarab of Egypt, Shanghai Kechem Wire & Cable Machinery Co, Shanxi Yuxin, Casting & Forging Co, Sipcon Instrument Industries Sneham International, Tianjin Zhaohong Metal Product Co, Uni-Cap, Walson Woodburn and Wire World.

Jeen Joshua, Group Project Manager of Wire & Cable 2015 said: "Wire & Cable 2015 makes its debut at a time when there is strong demand for wire and cable in the region. The MENA region's consumption of wire and cable crossed USD 15.4 billion. The GCC market reached almost 1.2 million gross cable tonnes, while the North African region consumed 520,000 tonnes."

The exhibition sees participation of exhibitors from India, Canada, Spain, France, China, Turkey, Egypt, UK and the UAE.

Categories: