GCC's cable consumption reached 1.3 million tons in 2013, against 400,000 tons in 2003
The GCC consumption of wires and cables reached 1.3 million gross cable tons in 2013, an increase of 69 percent compared to 400,000 tons in 2003, driven mainly by the utility and communications network in the UAE and the wider Gulf.

These figures were released in connection with the announcement of 'Wire & Cable Arabia', the debut international trade fair for wire and cable industry which will be held from January 10 to 13, 2015, at the Dubai International Convention & Exhibition Centre, supported by Ducab, a leading global cable manufacturer, as principal sponsor.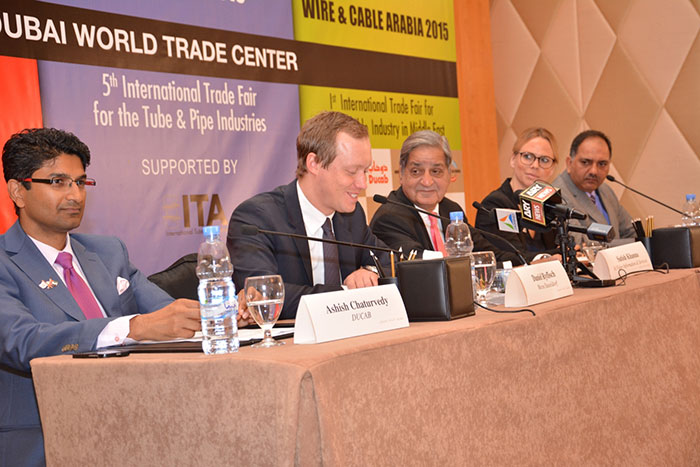 Satish Khanna, General Manager, Al Fajer Information and Services, organisers of the show, said: "In the GCC countries, the ongoing construction boom has spurred the demand for energy cables used in residential, commercial and industrial construction, as well as in expansion of utility networks."

Khanna added: "Wire & Cable 2015 has attracted diverse international and regional companies that will display latest technologies and solutions pertaining to this fast growing industry."

Mr. Ashish Chaturvedy, Marketing Manager, DUCAB said: "The cable industry in this region has undergone significant changes of late, making business intelligence and analysis more critical than ever. Our region is seen as one the most dynamic infrastructure investment markets for regional and global investors. UAE, Qatar, and Saudi Arabia all scored in the top third of the new index of ARCADIS Global Infrastructure Investment due to their strong business environment, healthy development work and growing economies, in addition to the mega projects that are scheduled in the pipeline for the coming three years which will represent billions of dollars of investments and opportunity for our industry."

"As Dubai looks to cement its super-hub status with $32b investment through the expansion of Al Maktoum International Airport at Dubai World Central (DWC), Qatar earmarks $140bn for infrastructure development. The Kingdom of Saudi Arabia and Kuwait alike are joining the parade with mammoth investments. All these projects are seen as promising growth opportunities, not only for Ducab, but for our entire industry," added Chaturvedy.

Chaturvedy said: "Cables & wires are the infrastructure backbone of any economy, the critical elements that wire up the length and breadth of the country as telecom and power networks. Power infrastructure, the other major driver of growth, is also witnessing similar trends, as developing economies continue to expand power infrastructure,"

Jeen Joshua, Group Project Manager of Wire & Cable 2015 said, " The Gulf wire and cable industry has become a large industry, thanks to the economic, commercial boom experienced in the GCC states, besides the infrastructure expansion. The wire and cable industry is not only about the manufacture of wires and cables but also it includes supply chain, procurement, marketing and distribution. The debut show will tackle all these important elements of the fast growing industry."

Joshua added: "This industry is currently undergoing a major expansion due to the exponential growth of the electric and communications industries. The Gulf's stress on further growing the power sector as well as continuously upgrading the communications sector will move the wires and cables industry into the next phase of growth."

"Ducab is aligned to the UAE community and the country's vision through its support of the key pillars of the UAE Vision 2021. The quality of cabling and accessories that Ducab provides, coupled with the expert knowledge, vast experience in the industry, and our geographical footprint has been instrumental in our success and that of our stakeholders. We look forward to continued engagement and interaction in the days to come, and we truly believe that Wire & Cable Arabia is a timely and relevant platform for our sector. Together, we can ensure that manufacturers and our representatives in the market are fully on-board in growing and streamlining this flourishing industry", concluded Chaturvedy.

On display at Wire & Cable 2015 will be auto cables, auxiliary process technology materials, auxiliary switch cables, cable entries to transformers and distributing gears, connecting fittings, cable fan equipment, cable processing equipment, cables and wires repair tools, cables and wires testing equipment and methods, cables for oil extraction, cables mounting and laying components and accessories, coaxial cables, communication cables and wires, connectors and cable termination equipment for local networks, heat-shrinking installation materials, connectors for optical-fiber components, control cables, cross-connect equipment, elevator cables, equipment, tools and accessories for cable and wire mounting, equipment, tools and accessories for field cable installation, extension cable, fire resistant cables, flat cables for submersible pumps, heating cables, house wires, industrial cables, inspection for field cable installation, inspection tools for cable and wire mounting, instrumentation cables, low-voltage wires, main conductors, mineral-insulated cables, mining Cables, power & control cables, power cables for stationary cable laying for low, medium and high voltage, solar cables, telephone cables, welding cables as well as relevant machineries for producing cables.