About Brizo - Virage Two Handle Widespread Lavatory Faucet
Brochures

Brizo - Virage Two Handle Widespread Lavatory Faucet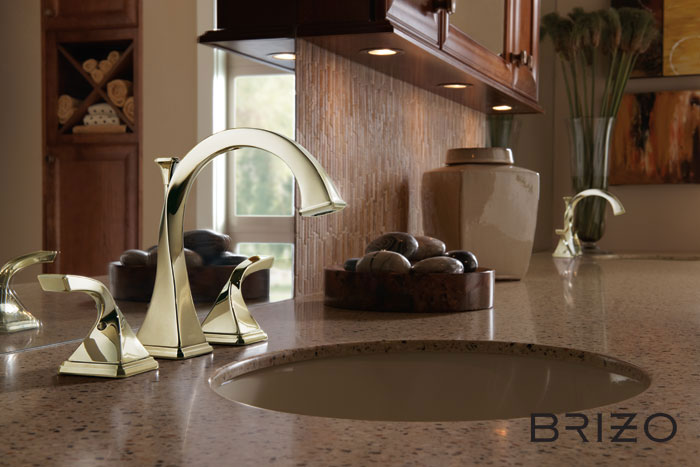 The idea for Virage really took root during a trip to Paris. We were intrigued by all of the beautiful wrought iron we saw there, and came back with so much great imagery. From there it was mainly a matter of making our initial sketches a little more Art Deco, a little less Gothic. We used that inspiration to create a design that is outside the usual categories of traditional and modern. By offering a variety of finishes, Virage has the ability to appeal to a wide range of design sensibilities." – Judd Lord- Head of Industrial Design

Features:

Elegantly twisted forms create a hand crafted work of art for the bath
Sophisticated styling adapts to almost any environment.
Spout features water-efficient, hidden laminar flow aerator
5.5″ Spout Length; 7.8″ Spout Height
Holes for installation: 3-hole 6-16″ installation
Flow rate: 5.7 L/min @ 414 kPa
Reinvention is at the core of what it means to be fashionable. The Virage™ bath collection by Brizo® beautifully embodies this spirit with its evolution of a classic faucet design. The Virage collection refines the familiar, timeless geometry of a graceful arching spout with an unexpected twisting, turning effect. The result is a hallmark Brizo design unlike anything else.

The unique design of the Virage collection has gained international recognition. Twisting, turning details are carried through every element of the collection, from the faucet handles to the showerheads. The faucet received an honorable mention in the 2010 Red Dot product design competition, one of the largest design competitions worldwide.

Virage Bath Collection

Twisting, turning details are carried through every element of the collection, from the faucet handles to the showerheads. The Virage collection includes a full suite of fixtures that provide luxury and customization for the homeowner.

Wide-spread lavatory,Vessel wide-spread lavatory,Two-handle wall mount lavatory,Three and four hole roman tubs,Wall and ceiling mount raincan showerheads,Medium Flow TempAssure® shower trims,Sensori™ shower,High Flow Thermostatic shower trims,A complete line of accessories including lighting and a mirror and H2Okinetic™ Showers H2Okinetic showers look different because they are different. The science behind H2Okinetic Technology creates a shower experience like no other. Each showerhead and handshower contains an internal system that sculpts the water into a unique wave pattern, creating a consumer-proven feeling of more water, all without using more water. The Virage collection offers H2Okinetic showerheads.

10 28 00 - Toilet, Bath, and Laundry Accessories
22 40 00 - Plumbing Fixtures
22 41 00 - Commercial Plumbing Fixtures
22 41 00 - Residential Plumbing Fixtures

Categories: lavatory, faucet, bathroom, lavatory faucet, water mixer, water tap.