About Delta Floor Mount Tub Filler
Delta Floor Mount Tub Filler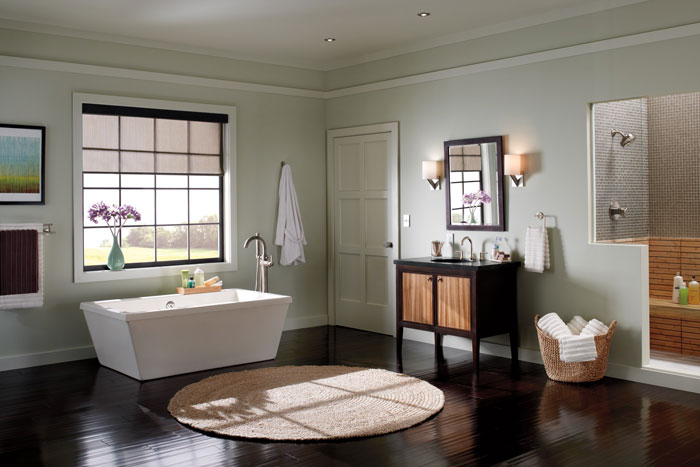 Product No: T4759-FL

Delta Faucet Company is pleased to announce the expansion of its global product offerings with the introduction of freestanding tub fillers for its Delta® and Brizo® brands. The new products were designed to coordinate with the brands' existing collections to address the expanding trend in freestanding bath design.

"We've continued to see increasing investment in the bath in our global markets, particularly when it comes to creating a more spa-like retreat at home," said Kenneth Roberts, vice president, international for Delta Faucet Company. "The new Delta and Brizo freestanding tub fillers convey uncompromised style while also delivering smart solutions that provide a superior experience from the installation process to everyday use."

The new Delta freestanding tub filler is offered in a contemporary design in Chrome and Stainless finishes to blend seamlessly with the Delta Trinsic™, Compel™ and Grail® bath collections. It delivers sleek style at an affordable price point. The comprehensive Brizo freestanding tub fillers feature six distinctive designs crafted to coordinate with any style, from stately to modern, and incorporate design innovations to help ease installation and improve functionality for a true statement in the bath.

About Delta Freestanding Tub Fillers:

Handshower

The Delta freestanding tub filler features a separate handshower with a pivoting arm, allowing it to lean over the tub after use.


Flowing at a rate of 2.0 gpm or 7.6 lpm, the handshower features Touch-Clean® Technology. Touch-Clean soft rubber spray holes allow users to easily wipe away calcium and lime build-up from the spray face of the handshower with the touch of a finger.
MultiChoice® Universal Valve
The pressure balanced freestanding tub filler comes with a 1300/1400 Series MultiChoice® Universal Valve cartridge. In 2006, the tub/shower industry was transformed by the introduction of Delta Faucet Company's MultiChoice Universal Valve, which enables users to make functional and stylish trim changes without ever changing the valve in the wall. One valve offers three function options: a single-function pressure balance, a dual-function pressure balance, and a new dual-function thermostatic valve cartridge.


Delta Faucet Company is the first and only manufacturer to offer the ability to install both pressure balance and thermostatic cartridges in one valve.
Laminar Flow
The Delta freestanding tub filler flows at a rate of 6-9 gpm or 22 - 34 lpm, cascading the water out in a laminar flow for an elegant look while filling the tub.
Ease of Installation
Single-hole, one-post installation design allows flexibility in the location of the rough-in valve (above or below the stringer).


The Delta freestanding tub filler requires only four screws to secure the mounting plate, reducing the time for installation.

22 40 00 - Plumbing Fixtures
22 41 00 - Commercial Plumbing Fixtures
22 41 00 - Residential Plumbing Fixtures