About Delta In2ition Two-In-One Shower Arm Mounted Shower
Delta In2ition Two-In-One Shower Arm Mounted Shower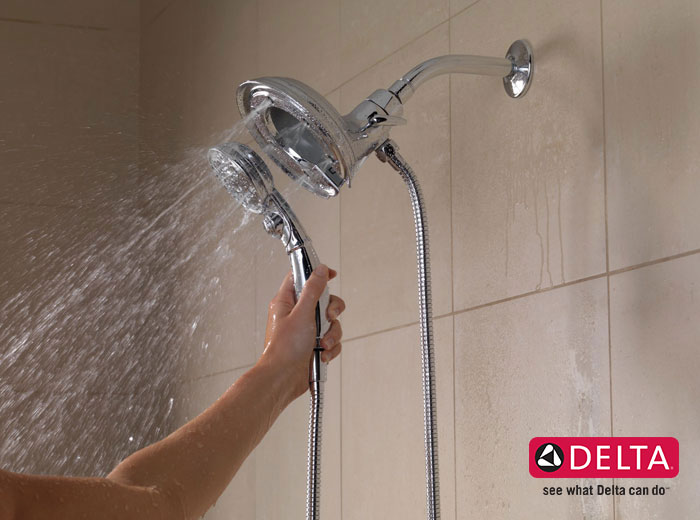 Delta Faucet introduced its popular line of In2ition® showers, which feature a showerhead and handheld shower in one, combining the soothing comfort of a showerhead with the convenience of a handheld shower. Now, Delta Faucet is pleased to introduce the benefits of H2Okinetic™ technology on its latest line of In2ition showers.

In2ition showers featuring H2Okinetic technology contain an internal system that controls the speed, movement and droplet size of the water exiting the showerhead, delivering the feeling of more water without actually using more water. All showers in this collection flow at a rate of 9.5 litres per minute (lpm). "The science behind H2Okinetic technology creates a shower experience like no other," said Paul Patton, senior product development manager, Delta Faucet Company. "We've brought this technology to our In2ition two-in-one showers to give consumers the satisfaction of a warmer, more drenching shower."

In2tition showers with H2Okinetic technology feature a detachable handshower, which can run separately or simultaneously with the showerhead base, giving the user the comfort of water streaming from the showerhead position and the flexibility to accomplish other tasks, such as bathing children, washing pets and cleaning the shower. When not in use, the shower employs MagnaTite™ technology to lock the handshower back into place using a powerful magnet. A flexible 60-inch hose that conveniently stretches to 82 inches provides extra reach and flexibility before returning to its original length.

In2ition showers come in three distinct styles - contemporary, transitional and traditional - to suit any décor and are offered in a variety of finishes, including chrome, Champagne Bronze™, Venetian® Bronze and Brilliance® Stainless. The traditional In2ition shower with H2Okinetic technology is also offered in the Delta Polished Nickel finish.

10 28 00 - Toilet, Bath, and Laundry Accessories
22 40 00 - Plumbing Fixtures
22 41 00 - Commercial Plumbing Fixtures
22 41 00 - Residential Plumbing Fixtures

Categories: shower, shower head, bathroom.