About Vero - Single Handle Centerset Lavatory Faucet
Vero - Single Handle Centerset Lavatory Faucet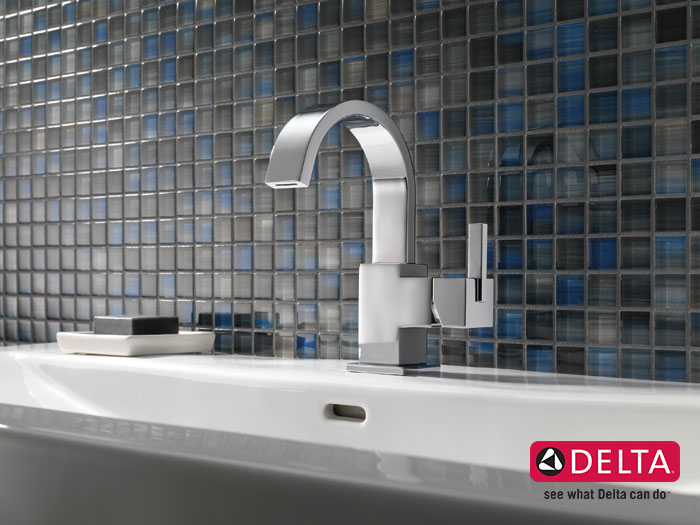 Delta Faucet brings an elegant take to the modern form with its new Vero™ bath collection. Featuring the clean lines of a ribbon and modern styling, the Vero collection is making its debut during the heart of a resurgent mid-century modern movement and enables fashion-forward homeowners to create a high-end feel without the high-end price.

"Urban and loft living is taking residential design to new heights and consumers want furnishings and accents that reflect this style," said Judd Lord, director of industrial design for Delta Faucet. "Modern is no longer perceived as a cold or industrial style, but an easy and livable way of life. The Vero suite was designed to complement this movement with its sophisticated, sleek, clean lines."

About the VeroTM Bath Collection:

WaterSense® Labeled
Delta Faucet Company takes its role as the 2013 WaterSense® Partner of the Year very seriously and is committed to working with the U.S. Environmental Protection Agency (EPA) to encourage efficient use of water resources and actively protect the future of our nation's water supply.
All lavatory faucets in this collection meet WaterSense requirements, flowing at a rate that is less than the industry standard of 8.3 litres per minute (lpm). The WaterSense labeled lavatories of the Vero bath collection provide up to 32 percent water savings over standard lavatory faucets, while the WaterSense labeled showerheads provide up to 40 percent water savings over standard showerheads , all without sacrificing the comfort and convenience of the user experience or the durability and life span of the product.
H2Okinetic™ Showers
H2Okinetic showers look different because they are different. The science behind H2Okinetic technology creates a shower experience like no other. Each showerhead and handshower contains an internal system that sculpts the water into a unique wave pattern, creating a consumer-proven feeling of more water, all without using more water. Showerheads in the Vero collection feature H2Okinetic technology.
MultiChoice® Universal Valve Trim
The MultiChoice Universal Valve Trim keeps the flow of hot and cold water consistent and monitors temperature to prevent thermal shock. It also is not affected by changes of ground water temperature. Once the MultiChoice rough-in valve is installed, future shower function upgrades or style changes can easily be made without altering the plumbing behind the wall.
The Vero bath collection features a Monitor® 14 series single-function option and a Monitor 17 series dual-function option, which offers separate volume and temperature control.
Touch-Clean® Spray Holes
The Touch-Clean soft rubber spray holes on the Compel handshowers allow users to easily wipe away calcium and lime build-up from the handshower with the touch of a finger.
Availability
The collection includes a full suite of products to provide a coordinated look throughout the bath and is available in Chrome and d Brilliance® Stainless finishes.

10 28 00 - Toilet, Bath, and Laundry Accessories
22 40 00 - Plumbing Fixtures
22 41 00 - Commercial Plumbing Fixtures
22 41 00 - Residential Plumbing Fixtures

Categories: lavatory, faucet, kitchen faucet, water mixer, water tap.