DEWALT announces XRP Premium Brushless range: the new benchmark for cordless drills
High performance, three-speed gearbox suitable for the widest range of tough applications


Brushless motor and Lithium Ion technology combined with high capacity 4.0Ah battery pack for unbeatable runtime


Electronic clutch enabling an exceptionally compact drill design


Unique air cooling system maintains perfect running temperature and prolongs tool life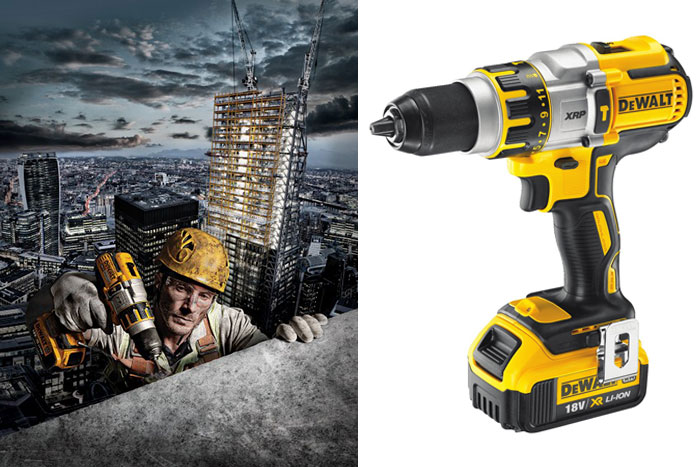 DEWALT® has today announced a completely new, redesigned XRP® Premium cordless drill driver/hammer drill driver range, featuring Brushless technology and a three-speed gearbox for a multitude of heavy duty jobs and challenging applications. The latest in the DEWALT XR® Lithium Ion Brushless series, this new model range is the seventh iteration of the renowned, high quality XRP cordless drill, and represents a significant development in its history in terms of compact size, functionality, runtime and performance.
Perfect for repetitive drilling and fastening work, and designed to provide extreme runtime in the toughest of situations, the XRP is built on the proven DEWALT XR platform with smooth running gearbox and intelligent electronics to manage power output, combined with a DEWALT Brushless motor and high capacity 4.0Ah battery pack.
The new XRP was designed from the outset to be shorter in length and lighter in weight than previous models. The re-engineered models incorporate the innovative DEWALT E-Clutch, a compact electronic clutch that enables the hammer drill driver to be 24mm shorter in length, increasing versatility in confined or awkward drilling scenarios. It also ensures more consistent torque settings.
Furthermore, the XRP features a unique air cooling system to maintain the perfect running temperature at all times. Instead of passing warm motor air along with application dust over the motor, the tool draws fresher, clean air from the base of the unit, to cool the motor more effectively.
As with all DEWALT tools, the XRP is ergonomically designed to assist the user during repetitive work, and features a specially contoured handle for improved comfort, support and optimal balance during use.
Almas Dedanwala, Brand & Communications Manager said, "The DEWALT XRP Premium Drill has been completely re-engineered to meet the needs of construction professionals who demand even more from their tools. Our users insist on the best performance from their products. They also require them to be more compact, and for the batteries to last as long as possible. These were the challenges we set the DEWALT engineers who designed the new XRP range, and the result is the most compact, three-speed premium drill on the market, offering runtime that simply cannot be beaten."
The new DEWALT XRP range comprises four models:

DCD995 – 18V Hammer Drill/Driver
DCD990 – 18V Drill/Driver
DCD937 – 14.4V Hammer Drill/Driver
DCD932 – 14.4V Drill/Driver
Why DEWALT Brushless technology?
A brushed motor within standard professional power tools contain small carbon brushes, which generate friction as the motor spins. This results in precious energy from the battery being lost as heat. The DEWALT XR Brushless motor dramatically reduces this wasted effort, meaning more energy from the battery is committed to the actual application – giving the user a huge increase in the runtime of their tool. A cooler running Brushless motor will also last significantly longer, as it endures less damaging exposure to heat.
DEWALT XRP Premium Brushless Li-Ion Compact Drill Drivers/Hammer Drill Drivers – features at a glance:

Latest generation XR Li-Ion Brushless platform featuring XR 4.0Ah Li-Ion battery technology
Cordless professional drill/drivers engineered for heavy duty tasks and extreme environments – available in four models
Designed for drilling and fastening in construction, electrical, HVAC, dry wall, joinery, woodworking, window fitting, maintenance, plumbing and many other demanding applications
Tough three-speed, all-metal transmission for increased runtime and longer tool life
Electronic clutch with 11 position adjustable torque control for optimised precision when screw driving
LED light positioned at the base to reduce chuck shadow and improve visibility in tight or dark spaces
13mm ratcheting keyless, all-metal chuck with automatic spindle lock for fast bit changes
Intelligent trigger to allow complete control over all applications
Ergonomically-designed, contoured handle for improved comfort and optimal balance
Multi-position side handle for maximum control
Two 4.0Ah XR Li-Ion battery packs and multi-voltage XR charger included as standard
Battery indicators to ensure the battery is fully charged before taking on-site
Metal belt hook for ultimate portability on site, and integrated accessory/bit storage
Hammer drill only

Hammer drill models deliver 0-34,000bpm for fast and efficient masonry drilling