DEWALT makes an impact with super-efficient brushless drivers
DEWALT® – the market-leading worldwide power tool brand – is transforming its Impact Driver offering with the introduction of a compact, high-performance, efficient brushless motor range. The new models boast a host of intelligent features that provide the professional with best-in-class benefits over a wide range of operating criteria.
DEWALT® Impact Drivers are particularly popular with professionals for driving fastenings; and the new XR® Brushless models deliver increased run-time, performance, efficiency, control and comfort over their brushed motor predecessors.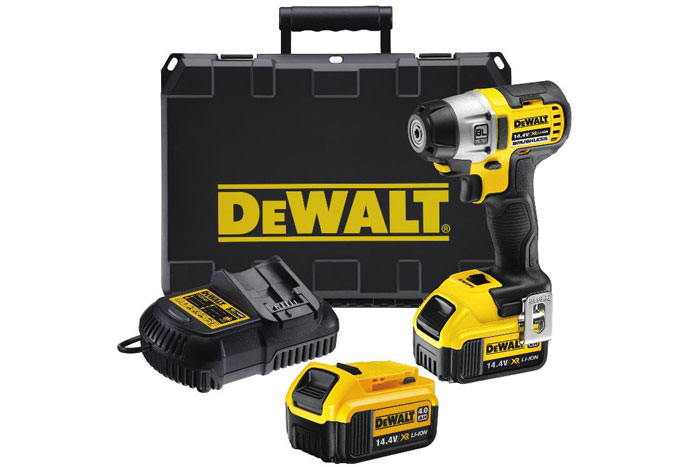 The two new products – the 14.4V DCF825M2 and the 18V DCF895M2 – are both available supplied with and without XR® Li-Ion 4.0Ah battery packs, multi voltage charger and kitbox, depending on specification.
John Cleave, Senior Product Manager, DEWALT®, says of the introduction, "Our product development team spends thousands of hours a year on construction sites across EMEA working directly with professional users. Runtime is frequently identified as a problem, particularly when a charger can't easily be accessed. That's why we have engineered the XR® Li-Ion Brushless impact drivers to deliver much more runtime helping the user tackle a wider range of applications."
Having fewer wearable parts and being virtually friction free, XR® Brushless motors offer a number of tangible benefits over their 'brushed' equivalents. These include:

increased run-time;
less heat;
more torque per weight;
increased efficiency (more torque per watt);
reduced maintenance;
and longer working lifetime.
In the new brushless tools, torque is greatly increased; and run-time is enhanced to the extent that, depending on usage, some trades will only need one charge per day. Furthermore, three speed settings – 950, 1900 and 2850RPM and torque ranging from 56 Nm to 170Nm – combined with the intelligent, variable speed trigger within the RPM settings, give the user total control and better accuracy in operation.
The tools have a flush front embedded bit grip to facilitate faster loading and change of drill bits, even with one hand. It has also helped make the drivers very compact – only 132mm front to back. This makes them especially suitable for working in awkward and confined areas, such as in cupboards or in tight stud wall spaces. The front face features an intense 3 LED light ring which removes any shadow. This provides excellent lighting and improved fixing accuracy when working in dark spaces or at night. The lights stay illuminated for up to 20 seconds, allowing work to be easily inspected immediately following completion of the application. For additional convenience, a belt clip and magnetic bit carrier are mounted to the grip sides. These are held by a single cross-head screw, and so are easily switched from side to side, depending on the preferred handedness of the user.
Finally, the tool represents the optimum in ergonomic design, with a contoured grip developed in close alignment with user preferences. The grip also features soft surface technology for improved handling and reduced user fatigue in operation.
The intelligent XR® variable speed switch offers greater application control and tool efficiency, helping the user complete the project more quickly and more accurately. It also assists in increasing tool runtime. Furthermore, it also monitors and controls battery pack discharge: protecting the tool and battery cells so, ultimately, prolonging tool and battery life.
With the launch of its XR® Brushless Impact Driver range, DEWALT® is setting new standards in performance and productivity, design and durability: and is living up to its commitment of making tools that are "Guaranteed Tough on the Outside, Intelligent on the Inside".