DUCAB Fire Performance Cables
Fire Performance Cables are intended for applications requiring circuit integrity during fire. These cables generate very low smoke and are halogens free thus helping to save human life and protect the sensitive equipments.

Ducab's Fire performance cables improves safety, reduces fire damages to buildings or equipments and provides extra time to escape during fire.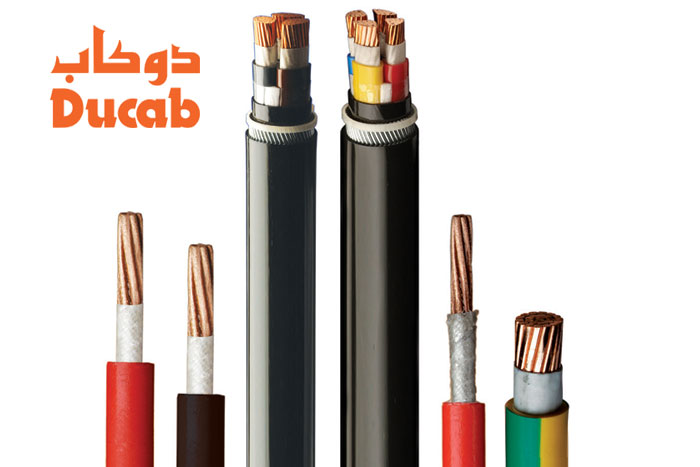 Ducab's range of Fire performance cables includes:

DUCAB FLAMBICC
Ducab FlamBICC cables are special fire resistant cables designed to survive and operate during fire conditions.
In order to suit different application requirements Ducab offers FlamBICC cables in the following range:
FlamBICC 1: These are single core Fire Resistant cables with XL-LSZH insulation to meet C-W-Z test as per BS 6387 for small sizes and IEC 60331 for large sizes.
FlamBICC 2: These are screened cables designed as per BS 7629 and are mainly used in fire detection, voice alarm, emergency lighting etc.
FlamBICC 3: These are single and multicore Fire Resistant cables with insulation and sheath to meet C-W-Z test as per BS 6387 for small sizes and IEC 60331 for large sizes.
FlamBICC 4: These are multi-core armoured cables designed as per BS 7846 with steel wire armour construction to meet category F2 fire test (C-W-Z test as per BS 6387)
FlamBICC 6: These are multi-core armoured cables designed as per BS 7846 with steel wire armour construction to meet category F120 fire test as per BS 8491. During F120 fire test direct mechanical impact and water jet is provided on the cable during fire test.
The selection of FlamBICC cables needs to be done in accordance with BS 5839 Part 1 and BS 8519 which lay down the selection and installation criterion for fire resistant cables.
For detailed product description and characteristics, reference can be made to the respective FlamBICC product data in this catalog. As a responsible organisation, all the FlamBICC range products from Ducab are designed with Low Smoke and Zero Halogen (LSZH / LSHF / LSOH) feature. Thus in the event of fire, the FlamBICC cable shall not emit heavy smoke or toxic halogen gases. The low smoke generation gives better visibility in a fire situation aiding the rescue operation and enabling the EXIT path to be seen clearly for escape. As there is no halogen or acidic gas emission during burning of the cable, the sensitive equipment in the surrounding areas are not affected adversely.
Download Product Catalogue
DUCAB SMOKE MASTER - LOW SMOKE AND FUME CABLES
Alongside the progress in fire safety engineering in building design, comes the requirement for electrical installations to provide increasingly greater fire protection for buildings and a safer environment for the people who use them. Ducab has made a major contribution to meeting these requirements, with the development of a range of Ducab Smokemaster Low Smoke Zero Halogen armoured power and wiring cables.
Why Low Smoke Zero Halogen Cables?
All buildings and structures are at risk from fire and so are the people who use them.
The threat which a fire poses isn't confined to the flames and the heat. Smoke, fumes and acid gases produced from the many items within a building's structure, fabric and fittings can spread quickly during a fire.
The structural services of the building, including the underfloor voids and vertical riser ducts which accommodate cables, can aid the spread of fire and the spread of the smoke and fumes which the fire produces.
These essential structural features form natural draught corridors which spread the problem of smoke and fumes to areas of the building which may not be affected by the fire itself – putting people at risk.
Installing
Ducab Smokemaster
cables can reduce the threat to life by extending the escape and rescue time available.
Smoke diminishes the time available by reducing visibility, hindering mobility and causing bodily harm.
Corrosive acids are formed when the gases released by fire come into contact with moisture. The moisture could be in the air, or could be generated by automatic sprinkler systems. Acid gases are poisonous irritants to people inhaling them. They also attack the electronic circuitry of sophisticated equipment used in modern offices causing costly damage. Ducab Smokemaster does not produce acid gas.
Ducab Smokemaster cables provide improved fire protection and reduce the risk to building occupants. They are slow to ignite, burn slowly and most importantly, give out negligible amounts of smoke and fumes during a fire.
Much more time is available to enable the orderly evacuation of people from buildings when a fire is discovered. Besides the time needed for people to evacuate a building, extra time is essential to the emergency services personnel who have to enter the building to control and extinguish the fire and assist those needing help.
Download Product Catalogue
Categories: