About Concrete Flooring: Terrazzi Concrete Resurfacing
Concrete Flooring: Terrazzi Concrete Resurfacing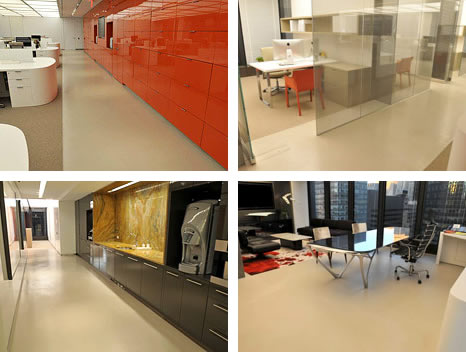 What is Terrazzi?
Terrazzi is a very cost-effective concrete resurfacing system that produces a very attractive polished concrete finish on floors and walls. The system consists of spraying a specifically designed concrete resurfacing compound (Arapido), and broadcasting a proprietary blend of fine aggregates, recycled glass and crushed marble into the wet Arapido (Cast-On). The Cast-On surface is subsequently polished to which brings out the nuance of cement-aggregate matrix. The Cast-On not only adds a unique look but also aids in increasing the strength and durability to the finish. It is an ideal choice in architectural concrete where cost, durability and aesthetic concerns are critical.
Advantages
Unlimited color combinations and textures
Accepts integral color pigments, chemical stains, dyes and water based stains
Achieve tremendous productivity (at least 20,000 ft2/day with a crew of 4 people!)
Ideal for interior and exterior
Comprised of zero VOC materials
Superior abrasion resistance
Excellent bond strength
Freeze thaw stability
Arapido Sprayer
The Arapido Sprayer is an airless, diaphragm pump developed for spraying Arapido, polymer concrete resulting in an ultra-smooth surface. It eliminates many of the installation limitations associated with hand trowel tools and the materials used.
Where to use Terrazzi concrete resurfacing system?
Achieve seamless polished concrete floor
Terrazzi concrete resurfacing system can be used over a self leveling concrete surface to achieve a polished concrete floor.
Achieve stained concrete floor over Gypcrete
Gypcrete can be sprayed with Arapido, polymer concrete so that it can be subsequently acid stained or dyed.
Resurfacing Pool Decks / Stamped Concrete without losing stamp texture
Concrete poured at different times will look different due to number of reasons. Resurfacing with Arapido is a fast way of achieving consisting look over the entire area. The worn out, dull looking stamped concrete driveways and patios can be renewed with Arapido, concrete resurfacing system
Resurface vertical surfaces
Any type of vertical surfaces (even ceilings) can be resurfaced rapidly with Arapido to create concrete finishes. The Arapido sprayer puts on a very smooth fine concrete finish without air pockets thus creating a very smooth finish. Magic trowels can be used to give subtle color movement and a fresco finish if desired.
Note: This system is installed by only certified installers. Contact us to learn how you can be certified to install Terrazzi Concrete Resurfacing System.