About Resinous Flooring: Kwörtz Flooring
Resinous Flooring: Kwörtz Flooring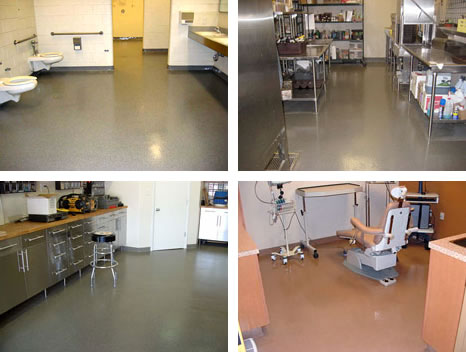 Kwörtz flooring system is a seamless decorative resin flooring system consisting of clear, 100% solids epoxy resin filled with a variety of graded quartz, marble or ceramic fillers which can be modified to create the best design mix for ideal performance and appearance. A wide selection of gloss and satin finish coats are available for varying appearance and exposure requirements. The finished flooring system can be textured or smooth as per the specifications. The decorative quartz aggregates are available in a series of pre-blended patterns or solid colors. Custom color blends are available subject to approval, minimum quantity requirements, and lead time for production.
typical uses
Airports
Baggage/Service
Terminals
Animal Areas
Housing
Cage washing
Beverage
Processing
Packaging/Warehousing
Bottling
Cafeterias
Chemical Processing
Clean Rooms
Commercial Kitchens
Corridors
Docks/Ramps
Food
Processing
Preparation Service
Hospitals
Corridors & Lobbies
Patient Rooms
Operating Rooms
Laboratories
Locker Rooms
Mechanical Equipment Rooms
Pharmaceutical Plants
Schools
Showers
Manufacturing
Light and Heavy Duty
Warehouses
Crack-free installations of Kwörtz flooring system can be achieved when installed in conjunction with a Perdüre FE80 and Perdüre MVT. An integral cove base can be installed in areas requiring seamless wall to floor coating.
Key Considerations:
On or below grade installation must have an efficient vapor barrier under the slab
Special treatments are necessary where hydrostatic pressure or
moisture vapor transmission may be present
Substrate temperature must be a minimum of 550F
(low temperature cure system available upon request)
Substrate must be free of dirt, waxes, curing agents, and other foreign materials
All control joints and expansion joints in the substrate must be revealed with
the appropriate divider strips in the topping
Kwörtz flooring system can be installed in different thickness and top coated with 100% epoxy resin, Novolac epoxy resin or solvent based polyurethane depending upon the performance requirements and application environments.
Typical Performance Properties
Flammability, ASTM D-635
Self Extinguishing
Adhesive Strength, MIL-D-26413
420 psi
Fungus & Bacteria growth
Will not support growth of fungus or bacteria when subjected to mildew and bacteria tests
Hardness, ASTM D-2240
80-84 Shore D
Bond Strength to Concrete, ACI Comm #503, Bulletin 59-43
400 psi (100% concrete failure)
Resistance to elevated temperature, MIL-D-3134F §4.7.4
No slip or flow at required temperature of 1580F
Coefficient of friction, ASTM D-2047
0.80
Water absorption, ASTM D-570
Nil (<0.05%)
Thermal Shock Resistance, ASTM C-884
Passes
Abrasion Resistance, MIL-D-3134F §4.7.3
Withstands 16ft/lb without cracking, delamination or chipping
Compressive Strength, ASTM C-570, 7 days
12,600psi
Tensile Strength, ASTM C-307
2,600psi
Flexural Strength, ASTM C-580
4,300psi
Thermal of Coefficient of Expansion, ASTM C-531
22 X 10-6
Perdüre NE33
Perdüre NE33 is a 100% solids Novolac epoxy coating ideal for harsh chemical and solvent resistant applications. Perdüre NE33 is used as a binder or seal coat where extreme chemical resistant performance is needed. Perdüre NE33 is excellent for secondary containment, solvent storage, pump pads, trenches and other high exposure areas.
advantages
Low viscosity ideal for trowelled mortar and slurry applications
Exhibits excellent resistance to strong acids, alkalis and most industrial chemicals and solvents
100% Solids – low odor during application and curing
Can be recoated in 4-6 hours
TECHNICAL DATA
CURE/DRY TIME
Viscosity @ 75°F
1000 – 1500 cps
Pot Life
20 minutes @
75°F
Mixing Ratio
2 parts A to 1 parts B by volume
Dry to Touch
4-6 hours @ 75°F
Solids Content
100% by volume
Re-Coat
10–12 hours @ 75°F
Volatile Organic Content
0
Light Traffic
24 hours @ 75°F
Weight Per gallon
11–11.5 pounds per gallon, mixed
Full Cure & Maximum Resistance
5 days
Perdüre U50
Perdüre U50 is a two-component, chemical resistant, polyurethane coating.
Perdüre P70
Perdure P70 is a two component, ultra high solids, aliphatic Polyaspartic polyurea designed to provide high gloss, UV stable (non-yellowing) and chemical resistant protection.

09 67 00 - Fluid-Applied Flooring