FOAMGLAS insulation used in Masjid al Haram in Mecca
More than 100,000 sqm of the new extension of the Grand Mosque in Mecca is under construction with FOAMGLAS boards on the roof to ensure an efficient use of the energy.
FOAMGLAS is the number one cellular glass thermal insulation and never reached in resistance to water, compressive strength and sustainability.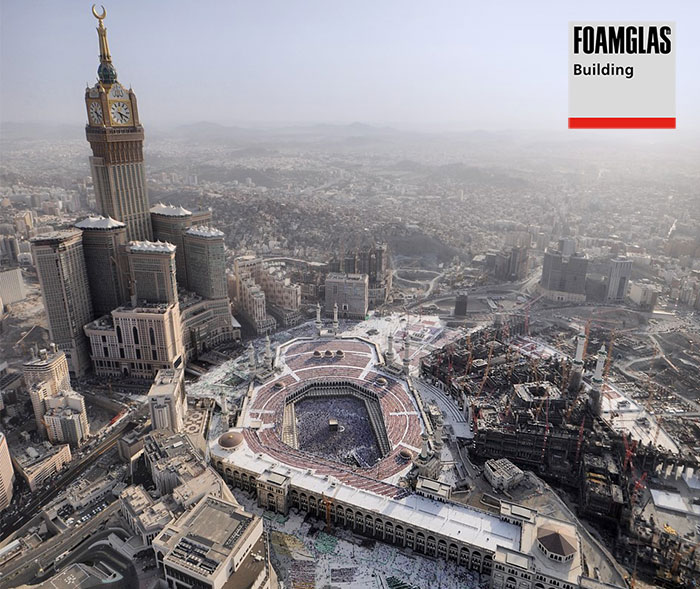 It can never get wet or absorb any humidity and is proven the most ecological thermal insulation produced with more than 60% recycling glass under environment friendly conditions. The never reached high compressive strength of the thermal insulation FOAMGLAS will enable the use of the roof for the pilgrims and is at the same time the most durable insulation.
The closed cell structure and the raw material glass makes FOAMGLAS the only thermal insulation keeping the thermal performance without any degradation over generations.
Al-Masjid al-Haram or the Grand Mosque surrounds one of Islam's holiest places, the Kaaba. It is located in the city of Mecca and is the largest mosque in the world.
2011 Saudi Authorities have launched work on a new historic $10.6-billion expansion, increasing its capacity to more than 2.5 million worshippers.
The total area of the existing Haram Mosque is 356,000 m2 accommodating 770,000 worshippers. Moreover, other plans were included to expand the mataf (the circumambulation areas around the Holy Kaaba) and provide air-conditioning for all parts of the Grand Mosque. In 2007, the entire mosque was fitted with air conditioning so that worshipers could perform their prayers in comfort.