Foamglas Reference - Oil & Gas Exhibition Centre Al Jaber, Kuwait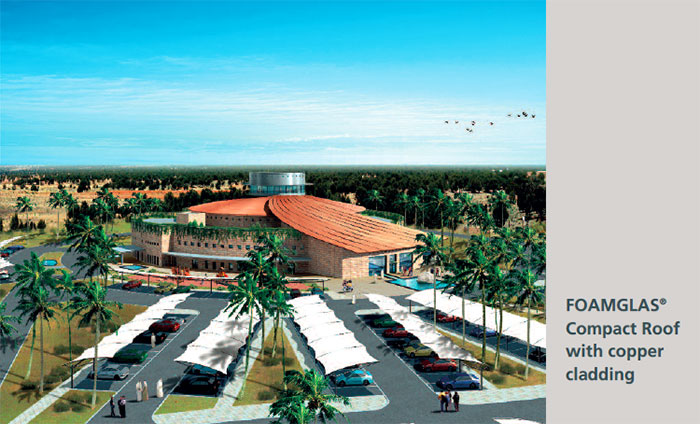 The Showroom will be named after Sheikh Ahmad Al-Jaber, the tenth ruler of Kuwait, during whose tenure the country witnessed numerous achievements, including the discovery and exportation of oil, which brought about monumental changes to the life of the Kuwaiti community.

This Display Centre will not only be a landmark for KOC. The 8,800 sqm exhibition will be arranged over three floor levels with a central viewing tower. The roofs are designed as FOAMGLAS® compact roofs, to ensure top quality and to avoid any problems in the future.

FOAMGLAS® boards are bonded with a cold adhesive directly to the metal deck. Square steel plates are pushed into the insulation which allow to fix the copper standing seam cladding, executed in traditional handcraft.

FOAMGLAS®, cellular glass material with zero absorption of humidity across the lifespan, non-combustibility and its ecological production process, is the most economical solution for this landmark project.