Generative Design with Grasshopper in BricsCAD BIM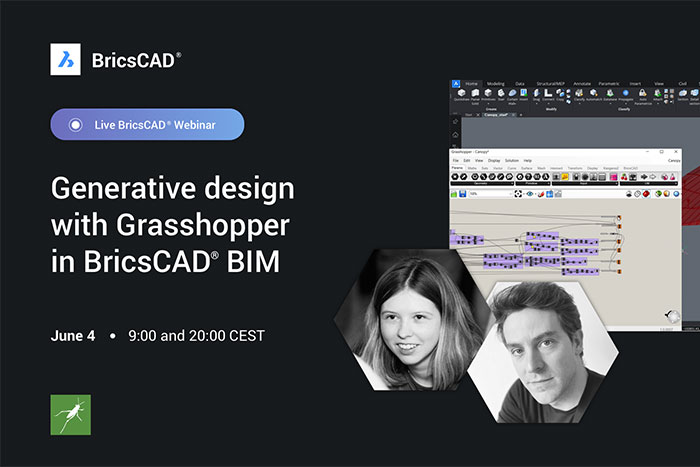 Parametric architectural design with fully integrated BIM data is now a reality with the BricsCAD BIM / Grasshopper connector. Join us for a live webinar to learn how the Grasshopper connection bridges the gap between algorithmic design and building information modeling in a real-time, bi-directional workflow.

In the live demo presented by Fleur Dooms, Product Specialist at Bricsys, you will discover:
How the real-time Grasshopper-BricsCAD connection can help you make parametric designs in solids,
How to easily use the functionality of BricsCAD BIM inside Grasshopper to make information-rich parametric models,
Taking your parametric model further using scripting, native BricsCAD tools, Grasshopper plugins, and much more.
Share the webinar registration page with your team and bring questions — we will answer them live. 

Join the Bricsys team for this quick live session, and get up and running with Grasshopper in BricsCAD BIM, fast. See you there! 

REGISTER
Upcoming webinars and recordings of past webinars can be found here.
#BricsCAD #CAD #BIM #BIM4DWG @Bricsys #GenerativeDesign #Grasshopper